Barry Sonnenfeld And Grant Morrison Developing 'Dominion: Dinosaurs Versus Aliens'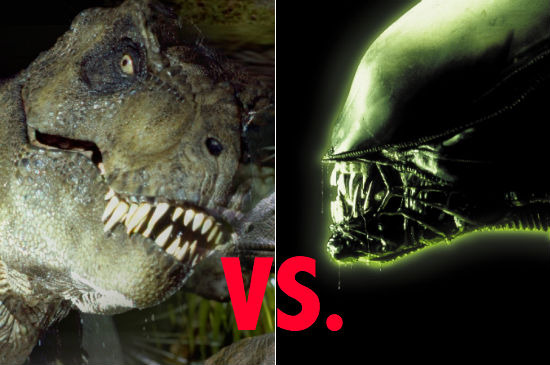 We've seen dinosaur films, alien films, humans fighting aliens, humans fighting dinosaurs, Monsters vs. Aliens and, soon, we'll see Cowboys and Aliens. However we've yet to see dinosaurs fighting aliens. And probably for good reason. But, that's not stopping director Barry Sonnenfeld and comic book writer Grant Morrison from developing a graphic novel and movie idea called Dominion: Dinosaurs Versus Aliens. Morrison, best known for his work on All-Star Superman and Batman (and Doom Patrol, and The Invisibles, and New X-Men, and...), will write the graphic novel and script and Sonnenfeld, currently working on Men in Black 3, will direct.
Deadline exclusively broke the news of this deal and described the plot of the property as follows:
The graphic novel will chronicle a secret prehistoric world war battle. When an alien invasion attacks Earth in the age of the dinosaurs, the planet's only hope is the giants that roam the planet with, it turns out, a lot more intelligence than previously realized.
Sonnenfeld, who made big money on the Men in Black movies, is obviously an alien fan but has also loved dinosaurs for a long time:
Growing up, my fascination was all things dinosaur, and as an adult, I've had some success making films about aliens, so this is a dream come true.
This idea is obviously still in its earliest stages so we can't really pass too much judgement yet. But, at first glimpse, there's one huge problem with this idea: who does a human audience side with in this scenario? As revered as both films are, one of the major complaints with District 9 and Avatar is that the audience is asked to cheer against themselves. At least in those films, though, we had something to relate to. In Dominion, do we relate to the dinosaurs who live on our planet? Or the aliens trying to invade it? Inserting random humans would probably seem forced.
As a series of action scenes, the idea sounds fine, but unless the dinosaurs or aliens speak, this is going to be a tough sell. We'll see how the idea takes shape over the coming months and years.
Do you see a way how this idea can work?