Guys (And Girls, Of Course) Should Totally See 'Bridesmaids'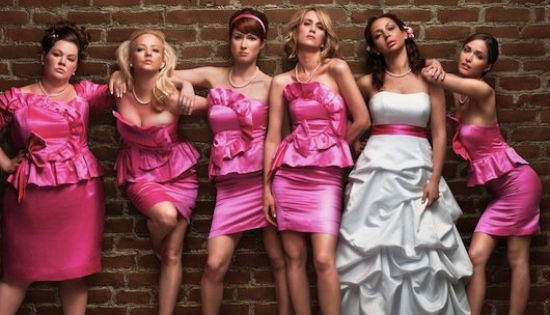 This isn't so much a review as it is a disclaimer. Bridesmaids, which opens Friday May 13, isn't what you think it is. I know the ads and trailers make it out to seem like a bit of a chick flick. Something that's strictly for a group of girlfriends to go see akin to Sex and the City 2. Well, as Peter's review said so well, Bridesmaids transcends the chick flick. More than that, it's not just "the female Hangover" either. Bridesmaids is better than that. And funnier. And grosser. And the kind of comedy that both guys, and girls, will love equally. In fact, the guys might like it more.
I'll attempt to explain that opinion without spoilers after the jump but, if this is as far as you get, let's just be straight. Guys, it's not only safe to see Bridesmaids this weekend, you totally should.
Co-written by Annie Mumolo and Kristen Wiig, Bridesmaids is produced by Judd Apatow and directed by Paul Feig. Wiig is best known as one of the primary female cast members on Saturday Night Live but has slowly been working her way into movies with roles in Knocked Up, Paul, Whip It, MacGruber and more. The story goes that Apatow was so impressed with her work on Knocked Up he invited her to pitch some film ideas, and out of that came Bridesmaids, a film about a girl who goes crazy fighting to be her best friend's Maid of Honor.
Though he only produced the film, Apatow is the key person in the film's marketing. That's because his name now stands for a very specific kind of comedy that Bridesmaids fits in with: gross out humor with a heart of gold. Some examples are the films he's directed – The 40 Year Old Virgin, Knocked Up – and well as produced, like Pineapple Express, Superbad, Step Brothers, Forgetting Sarah Marshall and Talladega Nights.
Here's the thing. Out of all those films, Bridesmaids is probably the funniest one. Let me state that again. I think Bridesmaids is the funniest film that Judd Apatow has put his name on. Everything about it is just so incredibly unexpected. Unlike most of Apatow's other films, it's not just guys doing dumb shit. It's girls doing even dumber shit. Wiig is a natural born leading lady comedienne who, along with Feig, has a knack for working with great people. Together they've not only assembled a fantastic cast, the cast has no boundaries. Everyone is willing to do anything for a laugh. And the things they do will make your jaw drop at their hilarious audacity.
There will most certainly be people who are disappointed by Bridesmaids or maybe not have as high an opinion of it as I do. It happens. But it's very important to know that even though the title is "Bridesmaids" this is not a movie for just bridesmaids. It's for groomsman, best men, maids of honor, brides, grooms, flower girls, ring bearers and everyone in between. Bridesmaids is a movie for anyone who loves hard R-rated comedy.