Rob Marshall To Direct Johnny Depp In 'The Thin Man' Remake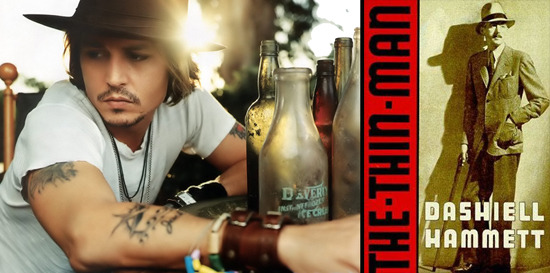 Johnny Depp must have really enjoyed his time with director Rob Marshall while making Pirates of the Caribbean: On Stranger Tides because the two will now, officially, team up to remake the 1934 film The Thin Man. Depp had been developing the project for sometime and it was previously rumored that he wanted Marshall on board. Obviously, that rumor was true. In addition we already knew that Jerry Stahl (Permanent Midnight) would be writing the screenplay based on the original Dashiell Hammett novel but now he'll be backed by producers Marshall and John DeLuca. Read more about the film after the break.
Warner Bros. issued the following, short and sweet, press release announcing the deal:
Rob Marshall and John DeLuca have officially signed on to the Warner Bros. planned remake of THE THIN MAN. The pair will produce the film via their LUCAMAR Productions banner. Award-winning director Marshall is also confirmed to direct. The film will reteam Marshall with Johnny Depp, who is attached to star in the project. The two just worked together on PIRATES OF THE CARRIBEAN: ON STRANGER TIDES which Disney will be releasing on May 20.
LUCAMAR Productions joins Infinitum Nihil Company and Langley Park Pictures as production companies on the project. In addition to DeLuca and Marshall, Johnny Depp and Christi Dembrowski are producing on behalf of Infinitum Nihil, and Kevin McCormick is producing on behalf of his Langley Park Pictures. Jerry Stahl is attached as screenwriter. Says Marshall, "John and I are overjoyed at the idea of working with Johnny again, especially on such a classy and classic project. We are also thrilled to be partnering this time with such wonderful producers as Christi Dembroski and Kevin McCormick, and we are looking forward to working with Warner Bros. to create a reinvention of a beloved story."
The Thin Man is about former detective who, along with his wife, parties way too much but eventually find himself investigating a murder. Originally a novel, it spawned a six-film series and television show.
Depp publicly stated that he didn't want to jump back into the Pirates of the Caribbean franchise too quickly so it's entirely possible that, with this announcement, The Thin Man could be his next film after his finishes shooting Dark Shadows with Tim Burton. He also has The Lone Ranger with Gore Verbinski on his plate as well as some high-profile cameos.
Do you think The Thin Man is ripe for a remake? Does having Depp so prominently involved make you feel better about it?