Mondo To Release Cult Horror Film 'Sledgehammer' On VHS. Yes, VHS.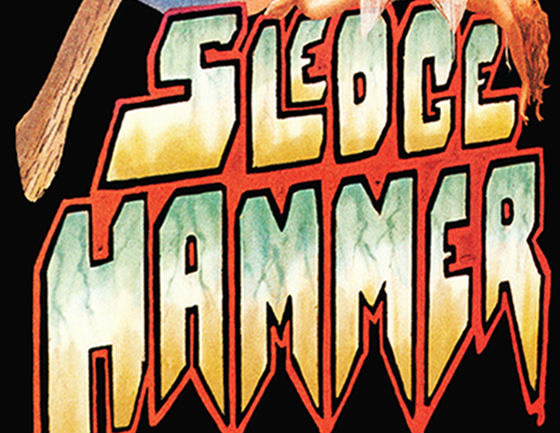 For the better part of two decades, three letters defined home entertainment: VHS. The video format carved a very important niche in movie history and then, in what seemed like an instant, disappeared. Phrases like "video stores," "be kind rewind," "tracking" and "late fees" were simply removed from the film geek lexicon. Thanks DVD. As most of us threw out our VCR's in favor of the newer, cheaper, more reliable format, others were simply too attached and invested. They craved the days when buying a movie wasn't as cool as getting a blank tape and recording off HBO. As it stands now, VHS is a dying – and therefore collectible – format.
Best known for their incredibly popular posters, Mondo has decided to bask in that '80s and '90s nostalgia and launch their very own VHS label called Mondo Video. Their first release comes out this week, the 1983 cult horror film Sledgehammer which was shot on tape. The VHS release coincides with not only the film's DVD release but a screening at the Drafthouse in Austin. Check out the box art, a clip from the movie and much more after the jump.
Here's a clip from Sledgehammer, complete with the new Mondo Video logo.
Mondo Video Presents SLEDGEHAMMER on VHS from Severin Films on Vimeo.
And here's the box art, which is a replica of the original box art.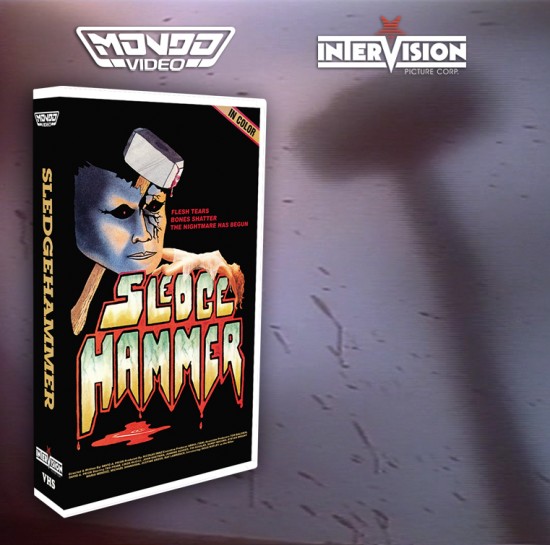 Finally, here's the press release from Mondo that goes into detail why they're investing in VHS, when you can buy the tape, when the screening is and much more.
Mondo, the collectible art boutique arm of Alamo Drafthouse Cinema, is pleased to announce a partnership with Intervision Picture Corporation to release 1983's SLEDGEHAMMER on VHS. SLEDGEHAMMER, the first shot-on-tape slasher movie for the home video market, will be the first video release of Mondo Video, a label created to release rare genre films in a collectible VHS format. The VHS release will coincide with the film's first release on DVD and a Terror Tuesday screening on Tuesday, May 10, 2011 at Alamo Drafthouse in Austin, TX. Mondo Video's SLEDGEHAMMER includes the original box art and copy from the 1983 VHS release and will be available for purchase only at MondoTees.com on Wednesday, May 11, 2011. The Intervision DVD will also be available for purchase on Tuesday, May 10, 2011 at http://amzn.to/sledgehammerDVD.Mondo creative director Justin Ishmael says, "I am downright crazy about VHS, so it gives me great pride that we get to make SLEDGEHAMMER the first release on our new Mondo Video label. There has been a major resurgence in VHS collecting the last few years after it was announced that the tapes would stop being made, so being fans ourselves, we jumped at the opportunity to actually resurrect the format and release some of our favorite movies on VHS. People thought they killed the video tape back in 2008, but like a phoenix, it is rising from the ashes! Never Forget!""Either by way of budget constraints, warped vision or both," says Intervision marketing director Evan Husney, "SLEDGEHAMMER is a piece of a cinematic underbelly from a universe all its own. This is the new cult canon: Buried in obscurity and ripe for reintroduction, it delivers top-shelf bizarro derangement, gonzo action, transcendental fever dreams and beyond."Alamo Drafthouse's Terror Tuesday programmer Zack Carlson, says "1940s scientists put years of study into creating the nuclear bomb, but it wasn't until the first tests at Los Alamos that they realized its inhuman powers of absolute destruction. Four decades later, filmmaker David Prior similarly unveiled SLEDGEHAMMER, a shot-on-VHS masterstroke of anti-intellectual decimation. On that day, cinema quietly crumbled into dust. Ted Prior (star of Deadly Prey; brother of the director) leads a cast of self-loathing alcoholics who face off against a shape-shifting, dimension-crossing spectre with a penchant for blunt object trauma. By the end, brains, bowels and Budweiser will be smeared across every inch of the walls.A rewardingly lethal collision of '80s slasher video-vomit, suburban legend and unintentional surrealist art, Prior's supernaturally disabled death opera is the most visionary migraine to ever pummel its way into your skull. If you survive it, you'll never ever forget it." Get tickets here http://drafthouse.com/movies/terror_tuesday_sledgehammer/austin.Among the DVD's bonus features will be the short segment "HAMMERTIME!," where the Alamo's
Terror Tuesday programmer Zack Carlson talks about the unique majesty of SLEDGEHAMMER and the unstoppable, incalculable power of '80s shot-on-video horror in general.
If this all sounds crazy, that's because it is. But Mondo was able to take another outdated and simple concept – gig poster art – and turn it into one of pop culture's hottest collectibles. Maybe VHS is the next big thing.