F. Gary Gray Will Direct Sam Worthington In 'The Last Days Of American Crime'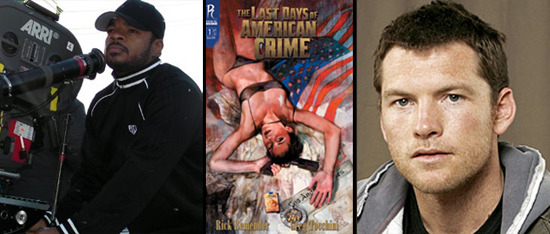 In late 2009 we reported that Sam Worthington would produce and star in an adaptation of the graphic novel The Last Days of American Crime, but we've heard basically zip about the project since then. Now, just as the market action is about to begin at Cannes, there is some news: F. Gary Gray (Law Abiding Citizen, The Italian Job, Friday) has been tapped to direct.
THR has the news, but doesn't offer much more other than that Karl Gadejsak will script based on the graphic novel written by Rick Remender.
When the news of this adaptation broke in 2009, Rick Remender gave the site the news, and describes his book as being informed by David Mamet and James Ellroy, but the basic plot description is highly suggestive of Philip K. Dick and the film version of Minority Report.
In a near-future America, news has broken that, in a matter of weeks, the government is set to roll out mind-control technology that will kill the criminal impulse in all citizens. Chaos descends on America's cities as the country braces for the new order. Career criminal Graham Brick is forced to accelerate the heist of his career with an untested new crew in order to beat the deadline.
I still sense a strong Minority Report vibe coming off this one it sounds a bit like Minority Report Year Zero. That doesn't have to be a bad thing, but I also have to be convinced that Sam Worthington will make a great lead. He can be so much fun and so charismatic in interviews, but that energy often seems to die somewhere between reality and the screen. If that changes here then The Last Days of American Crime will have a hell of a lot more appeal.
We've heard, too, about other possible F. Gary Gray films (Hair of the Dog, for example), but with sales for this one happening at Cannes, it could end up being his next film after Kane & Lynch. (Or, if that project continues to be shaky, it might even come first.)