New Images: The 'Footloose' Remake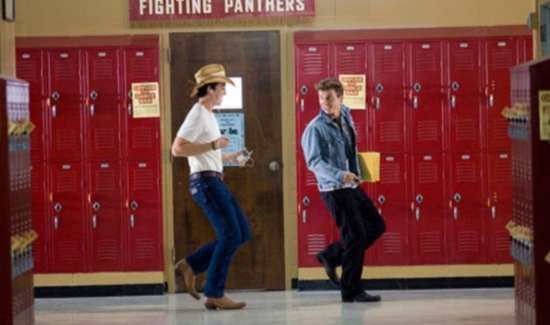 That Footloose remake that no one asked for and everyone keeps forgetting about (okay, maybe that's just me) is still moving forward, and we have new images to prove it. The updated version stars relative unknown Kenny Wormald as protagonist Ren McCormack and two-time Dancing with the Stars winner Julianne Hough as love interest Ariel Moore — the parts originally played by Kevin Bacon and Lori Singer.
The new photos show, among other things, Hough looking cute in cutoffs, Wormald looking like a slick city boy, and Dennis Quaid and Andie MacDowell as Ariel's parents. Check 'em out after the jump.
[photos via Latino Review]
Like the original, the new Footloose centers around city kid Ren, who moves to a small town where dancing and rock music have been banned. In typical Hollywood fashion, he falls for pretty hometown gal Ariel and goes about teaching the town about the power of dance and music.
In addition to the actors mentioned above, Miles Teller (Rabbit Hole) also stars as a local boy who befriends Ren. Both Wormald and Hough have strong dance backgrounds, so we'll probably get some good dance numbers — but as neither of them have much acting experience, I'm not sure what to expect on that front.
While the 1984 version isn't exactly a classic of highbrow cinema, it is a film that a lot of people have grown up with and remember fondly — and that few people thought needed updating. Last month, we featured a film called Our Footloose Remake, in which 58 directors recreated 54 scenes from the original movie as a tongue-in-cheek way of protesting Paramount's new version.
Oh well. Given the present popularity of teen musicals (as evidenced by the successes of Glee and High School Musical) and Hollywood's current obsession with remaking everything, an updated version of Footloose was probably a foregone conclusion.
Footloose was initially slated for an April release, but has since been moved to October 14, 2011 — as Russ points out, just in time for Homecoming Dance season.