First Look: Brad Pitt In Andrew Dominik's 'Cogan's Trade'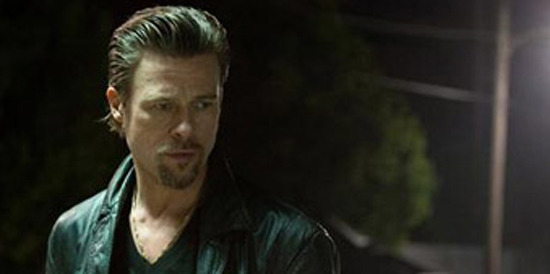 This isn't just another shot of Brad Pitt, and it isn't a shot of Brad Pitt in the Fight Club sequel that (thankfully) doesn't exist. This is Brad Pitt in the Andrew Dominik film Cogan's Trade. It's only the director's third feature, and his first two (Chopper and The Assassination of Jesse James By the Coward Robert Ford) have quite a fervent following. Needless to say, we're excited to see what he's done with this film. We've seen spy snaps of Brad Pitt in character as a mob enforcer who goes after  a team that rips off a high-stakes poker game, but this is the first 'real' look at him in the film. See a slightly larger version after the break.
Also in the cast are Ben Mendelsohn, Richard Jenkins, Ray Liotta, James Gandolfini, Scoot McNairy and Sam Shepard. While Casey Affleck was the first person to bring the project to our attention, he never made it into the film. A shame, as that would have made for a good Jesse James reunion. Sam Rockwell, also once reported for the film, dropped out prior to shooting.
The film is based on the novel by George V Higgins, and from the sound of things will be a bit more of a thriller tinged with comedy than it will be something meditative like Jesse James. That doesn't change my anticipation for the film one, bit, however — I'll be willing to have a look at whatever Andrew Dominik throws out at this point. Shooting just wrapped in New Orleans, and The Weinstein Company will release the film sometime in 2012.  [Screen]