Casting Bits: Vince Vaughn Joins 'Lay The Favorite', Alec Baldwin And Rory Culkin Sign On For 'Hick', 'The Hunger Games' Casts District 9 Tributes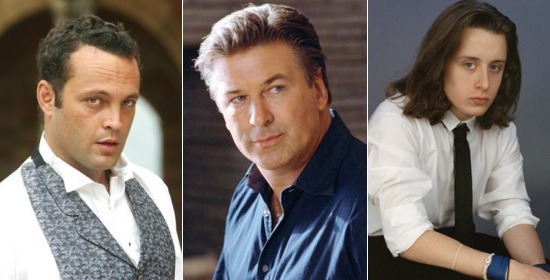 I wouldn't generally think of Vince Vaughn as the natural replacement for a role that Justin Timberlake had dropped out of, but then again, I'm not a professional casting director. Deadline reports that Vaughn has just signed on for Stephen Frears' Lay the Favorite in the part of "Rosie, a Long Island bookie that [protagonist Beth] Raymer once worked for" — a role that Timberlake was attached to earlier this year. I don't know much else about the character, but it's easy to imagine Vaughn's loud, charismatic, rather dickish persona being a perfect fit for a movie about Vegas gambling, don't you think?
Based on Beth Raymer's memoir of the same title, Lay the Favorite follows Raymer in her journey from Vegas cocktail waitress to top professional gambler. As Raymer falls in love, she begins re-evaluating her life decisions. Rebecca Hall, Bruce Willis, Catherine Zeta-Jones, Joshua Jackson, and Frank Grillo are also attached to star. [via The Playlist]
After the jump, Alec Baldwin and Rory Culkin sign on for Hick and The Hunger Games finds its District 9 tributes.
'Hick' is a stylish, often funny and a heartfelt coming-of-age story about 13 year old Luli's life on the road. Whatever is thrown at young Luli only makes her stronger and more defiant, and yet somehow she is able to remain undefeated and undeterred from her goal for a better life. It is this courage that makes 'Hick' an incredible story and an inspiration to all.
I've neither read the book nor seen the movie, so I can't say how the two compare — but purely based on those two descriptions, it's hard to believe the big-screen adaptation will be all that faithful to the source material. Baldwin and Culkin's roles in the film have not been revealed. [The Playlist]
Gary Ross' The Hunger Games continues to fill out its smaller parts with the announcement of Imanol Yepez-Frias and Annie Thurman as the nameless tributes from District 9. Like most of the young tributes that have been cast so far, Yepez-Frias and Thurman are relatively unknown actors. The casting of the District 9 tributes leaves just four tributes left to be cast: two each from Districts 2 and 10. In addition, we're still waiting on casting announcements for the pivotal roles of President Snow, Haymitch and Cinna.
As previously reported, Jennifer Lawrence will star as protagonist and District 12 tribute Katniss Everdeen, alongside Josh Hutcherson as fellow District 12 tribute Peeta Mellark. Other known cast members include Liam Hemsworth as Katniss' hometown friend Gale Hawthorne, Elizabeth Banks as Capitol liaison Effie Trinket, and Wes Bentley as Head Gamemaker Seneca Crane. [Facebook]