Ricky Gervais Will Voice Spy Dog In 'Spy Kids: All The Time In The World'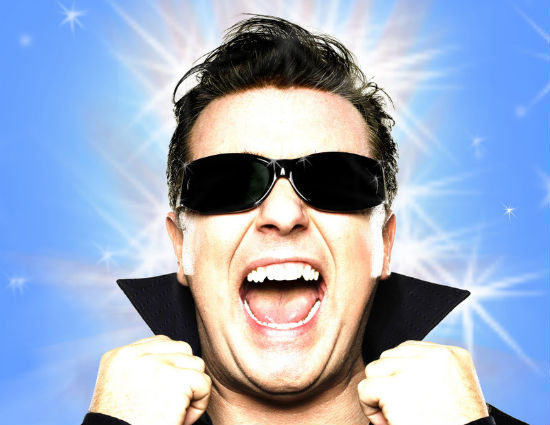 "Not only am I lending my voice to Spy Kids, but they can keep it. I'm sick of it." That's what Ricky Gervais had to say when it was announced he'd be voicing an "outrageous robot spy dog" named Argonaut in Robert Rodriguez's fourth installment in the Spy Kids series, Spy Kids: All The Time In the World. The popular actor and comedian is best known for co-creating and starring in the original version of The Office and has since done an incredible amount of work both in front of the camera, behind the camera, on stage and in animation. He joins a cast that already includes Jeremy Piven, Joel McCale, Jessica Alba, Danny Trejo, Alexa Vega and Daryl Sabara. Read more after the jump.
The Weinstein Company released a press release announcing Gervais' casting and gave the following plot description for the upcoming 3D film, set for release August 19, 2011:
On the surface, Marissa Cortez Wilson (Jessica Alba) has it all...married to a famous spy hunting television reporter, a new baby and intelligent twin step kids. But in reality, trying to mother Rebecca (Rowan Blanchard) and Cecil (Mason Cook), who clearly don't want her around, is her toughest challenge yet. Also, her husband, Wilbur (Joel McHale), wouldn't know a spy if he lived with one which is exactly the case – Marissa's a retired secret agent.
Marissa's world is turned upside down when the maniacal Timekeeper (Jeremy Piven) threatens to take over the planet and she's called back into action by the head of OSS, home of the greatest spies and where the now-defunct Spy Kids division was created. With Armageddon quickly approaching, Rebecca and Cecil are thrust into action when they learn their boring stepmom was once a top agent and now the world's most competitive ten year olds are forced to put their bickering aside and rely on their wits. With a little help from a couple of very familiar Spy Kids, Carmen (Alexa Vega) and Juni Cortez (Daryl Sabara), and some mind-blowing gadgets, they just may be able to save the world and possibly bring their family together while they're at it.
Spy Kids: All The Time In the World sounds very much like it's a passing of the torch film from the old Spy Kids to a new generation and it's no surprise that Rodriguez has been able to get such an amazing supporting cast, Gervais included. He's cast everyone from Sylvester Stallone to Alan Cumming, Steve Buscemi and Ricardo Montalban for the previous installments.
Are you excited to hear Gervais play a dog?