Superhero Bits: Hulk, Wolverine, Amazing Spider-Man, Thor 2, The Avengers, The Dark Knight Rises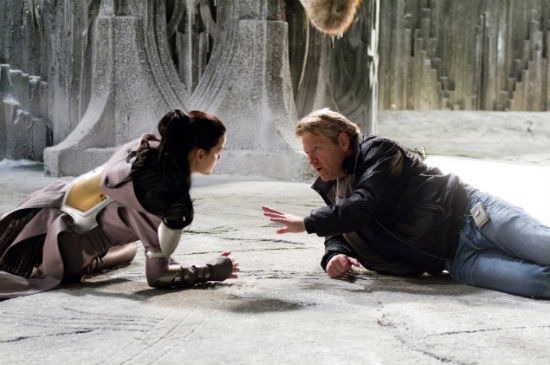 Curious about Mark Ruffalo's portrayal of The Hulk in The Avengers? Where that leaked Avengers script has recently turned up? Who is interested in directing Thor 2? Could Wolverine could appear in X-Men: First Class sequels? Are there any set photos of The Dark Knight Rises yet? And what's the latest on The Amazing Spider-Man? Never fear, Superhero Bits is here!
Now that Thor is in theaters, [MINOR SPOILER COMING] featuring an awesome cameo by Jeremy Renner as Hawkeye, [MINOR SPOILER OVER] and with Captain America: The First Avenger on the way, the only member of The Avengers we won't have seen by July is Mark Ruffalo as The Hulk. Marvel President Kevin Feige spoke to The Playlist recently about what Ruffalo is bringing to the character:
I think like James Bond changing actors many times or Batman changing actors many times, or Dr. Who changing actors, every actor brings something different to it and I think what we're going to find [with Mark Ruffalo is] a pathos that I think we haven't seen in Bruce Banner since Bill Bixby. Ruffalo is I think going to be matching that in terms of really sort of feeling for that character and caring for that character. I think one of the reasons Mark wanted to come on is that Banner becomes as interesting a character as the Hulk does. And all rooted in that pathos for this brilliant man who has this condition.
And while he seems pleased as punch at that casting, one thing Feige certainly wasn't happy about recently was the leak of Samuel L. Jackson's script for The Avengers. Though rumors that production would be delayed were exaggerated, once a leak begins, it's hard to stop. According to Movieweb, the script has already found its way into the bins of bootleg screenplay salesman in Downtown Los Angeles. Head to Movieweb to read more.
As you well know by now, Kenneth Branagh's Thor is in theaters and already experiencing success. That begs the questions, what's up with Thor 2 and will Branagh be back to direct it? Well, in several recent interviews he was keenly aware not to say "yes" or "no" but his quotes all suggested he'd be up for it. In a Q&A with the Los Angeles Times, he said the following:
It would be a great problem to have, I must say. It would be a very nice problem to have that conversation....obviously the film gets to an ending that kind of begs a question. There are other tales to tell and we'll listen to the public and see if they want us to tell them.
You can watch him say that, and much more, in the below video (the quote in question is at about 4:30) or head to MTV Movies for even more non-committal answers about Thor 2.
Two other major Marvel comics have upcoming films that will not tie into The Avengers. Those, of course, are X-Men First Class and The Amazing Spider-Man. X-Men First Class is out in less than a month and, as was discussed above, that means it's already time to look towards a possible sequel. With The Wolverine dead in the water, producer Bryan Singer confirmed that there would be room for Hugh Jackman's character to appear in a First Class sequel.
I think there would definitely be room. I think it would be a very exciting thing. This universe has to establish itself first, but that would be a very interesting and fun thing.
Thanks to IGN for the quote.
Moving on to next summer, we have The Amazing Spider-Man, which is still in production. It's been a long shoot for director Marc Webb and, probably, star Andrew Garfield as well. Check out these latest set photos of him wearily walking around town both as Peter Parker and Spidey himself.
[No photo]
For more brand new Spidey images, head to CelebBuzz or Splash News.
Last, and unfortunately least, is easily the most anticipated superhero movie of them all, The Dark Knight Rises. Shooting has reportedly just begun and a beyond awful "set photo" has appeared online. Yes, even worse than the Tom Hardy fan photo from a few weeks back. Check it out.
[No photo]
This came from the Twitter of a now-anonymous source and fan speculation over on Coming Soon says it might be "Ra's al Ghul's Lazarus Pit." That or proof that the Loch Ness Monster exists. Head over to Coming Soon to read more and laugh at the enlargements.