Casting Bits: Anthony Hopkins In Talks For Angelina Jolie's 'Churchill And Roosevelt', Michael Kelly Joins Sci-Fi Thriller 'Chronicle'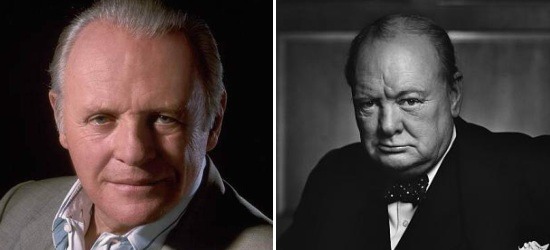 Anthony Hopkins revealed in a recent interview that he's been talking to Angelina Jolie about taking on the role of Sir Winston Churchill in Churchill and Roosevelt. Although I haven't heard too many details about the film, it's probably safe to assume that Churchill and Roosevelt will focus on the two leaders' professional relationship during World War II.
Jolie is said to be "developing" the film, though it's not clear whether her official role will be that of a producer, director, actress, or some combination thereof. She's apparently very excited about the project, however — Hopkins said that Jolie has "got a thing about Churchill," whatever that means.
Jolie recently sent a synopsis of the script to Hopkins, but the actor has not yet confirmed his involvement. One thing holding him back may be the politician's famously rotund physique: "I don't know, I'd have to put on some weight to play Churchill," Hopkins joked to the interviewer. "I've just taken the weight off, I'd have to put it back on again." The project is still seeking a Franklin Delano Roosevelt.
Churchill's most recent big-screen appearance was in last year's The King's Speech, where he was played by Timothy Spall. Hopkins, in case you haven't heard, is starring in this weekend's Thor as the Norse god Odin. [MTV News]
After the jump, Criminal Minds: Suspect Behavior star Michael Kelly signs on for a sci-fi flick. Did you even know Criminal Minds: Suspect Behavior was a thing that existed? Because I didn't.
In addition to his starring role on Criminal Minds: Suspect Behavior, Kelly's previous experience includes parts in Generation Kill, The Sopranos and Zack Snyder's Dawn of the Dead. Most recently, he appeared in the Philip K. Dick adaptation The Adjustment Bureau. [Variety]