'Glee Live! 3D!' Coming To Theaters This Summer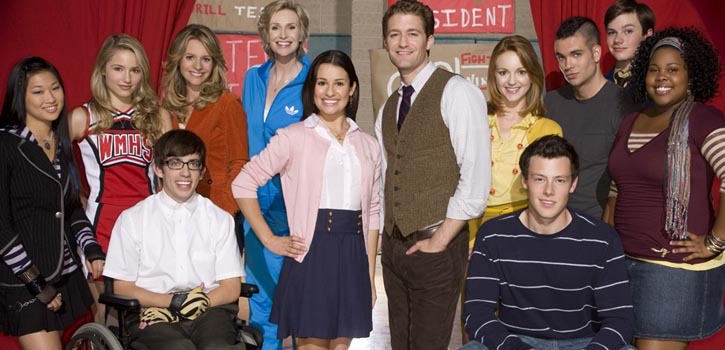 Miley Cyrus has one. So do the Jonas Brothers and Justin Bieber. Now those crazy kids from Fox's hit musical TV show Glee are getting their own, live, 3D concert movie. 20th Century Fox will release Glee Live! 3D! in theaters on August 12 for a two-week limited engagement directed by Kevin Tancharoen, the man behind those Mortal Kombat shorts. The film will be shot during the upcoming Glee Live! In Concert! North American Tour that starts later this month and feature most of the show's cast. Read more about it after the jump.
Deadline broke the news of this upcoming film, which will feature Lea Michele, Cory Monteith, Amber Riley, Chris Colfer, Kevin McHale, Jenna Ushkowitz, Mark Salling, Dianna Agron, Naya Rivera, Heather Morris, Harry Shum, Jr., Chord Overstreet and Darren Criss. It'll be produced by Ryan Murphy, the show's creator. Here's what he said to The Hollywood Reporter:
This tour was all about going out and performing for our amazing fans who have supported our show from the beginning, but due to the limited time we had to travel during our hiatus, there were only so many cities we could get to before we had to resume work on the television series. We knew that not every fan who wanted to attend a concert would get that opportunity. Now, thanks to our friends at Twentieth Century Fox Film, we'll be able to bring the concert experience to movie theaters across the country in full three dimensional glory. We promise every passionate 'Gleek' a cinematic experience that will have them singing and dancing in the aisles.
According to the tour's official site, the stage show – and therefore the movie – is going to feature the cast singing a bunch of popular songs that were also performed on the television show.
From a business stand point, this is a great, no brainer decision by Fox. The tour is already going to be happening, so throw a few million at a 3D shoot and post production and it's almost a guaranteed money maker. It's been proven time and time again that audiences turn out for these 3D concert films, especially if they're by the latest flavor of the month.