Casting Bits: Nicole Kidman Considering Phillip Noyce's 'Our Wild Life', Dakota Johnson Grabs Three New Roles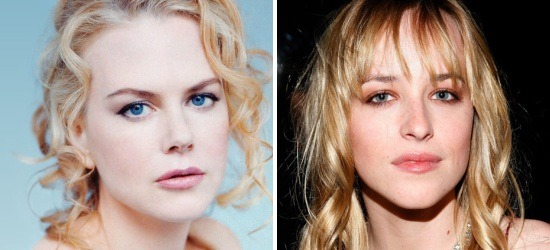 Late last year, Salt director Phillip Noyce became the latest director to sign on for Our Wild Life, based on the story of Kenyan elephant conservationist Daphne Sheldrick. (Whose work was recently documented in the IMAX film Born To Be Wild.) The project had already racked up a pretty troubled history by this point — Nick Cassavetes (The Notebook) was originally attached to direct, but left on bad terms. He eventually sued New Line for not letting him direct from his own rewrite of Jeff Stockwell's original script. Since then, The Motorcycle Diaries director Walter Salles has picked up and dropped the project, and Julia Roberts, Kate Winslet, Charlize Theron, and Drew Barrymore have each been reported or rumored to star at some point.
Now, a new story suggests that Nicole Kidman may be the latest actress to attempt to get the project up and running — but her involvement is nowhere near certain. Kidman is said to have "read and liked the script," which is certainly not the same thing as "signing on to the project." Indeed, her rep at CAA has said that she is not officially attached to Our Wild Life at this point. Still, it's possible we'll be hearing about more solid negotiations sometime in the near future.
Then again, maybe we won't. As The Playlist points out, scheduling conflicts may ultimately prevent Kidman from coming on board, no matter how much she loved the script. Our Wild Life is reportedly aiming to begin shooting in September, but Kidman has already committed to starring opposite James Franco in Sweet Bird of Youth on Broadway this fall. We'll keep you updated as Kidman's involvement, or lack thereof, becomes clearer. [The Wrap via The Playlist]
After the jump, an actress you've probably seen but don't know by name snags not one, not two, but three new roles.
Goats is a coming-of-age indie that will also star David Duchovny and Vera Farmiga. Five Year Engagement is the Judd Apatow-produced comedy that's been picking up talented folks left and right over the past several months — in addition to Johnson, the film will also feature Jason Segel, Emily Blunt, Jacki Weaver, Rhys Ifans, Chris Pratt, Alison Brie and Mindy Kaling. And finally, 21 Jump Street (if you haven't heard by now) is an action-comedy remake of the popular late '80s/early '90s cop series that launched Johnny Depp's career.
But wait, you may be wondering, Dakota who? Johnson is the daughter of actors Don Johnson and Melanie Griffith, but she's probably most recognizable to you as the girl who sleeps with Sean Parker (Justin Timberlake) without realizing his identity in The Social Network. [Variety]