Casting Bits: Katrina Bowden In 'Piranha 3DD;' 'Pusher' Remake Actors Announced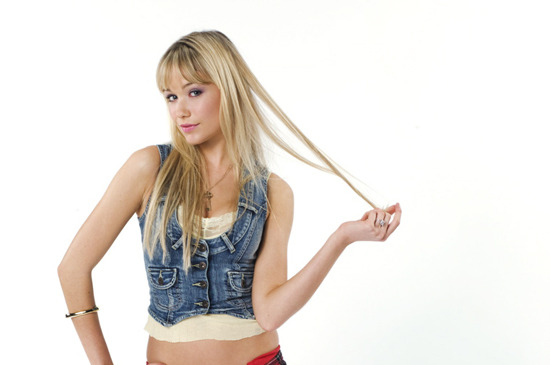 Piranha 3DD has one more potential victim: Katrina Bowden, who plays the equally tiny, hot and self-absorbed assistant Cerie on 30 Rock, is now part of the cast. I don't think I need to run down all the obvious potential perks of this casting for fans of her character on that show. I mean, we don't need to get all lascivious here. But yes, she'll be better to look at than David Koechner. The film also features Gary Busey, Danielle Panabaker, Matt Bush, Chris Zylka, Meagan Tandy, Paul James Jordan, Jean-Luc Bilodeau, Hector Jimenez, Adrian Martinez, and Clu Gulager, and is shooting now in North Carolina. Still waiting to hear about the porn starlets that will be cast; Piranha has a reputation to maintain, after all.
After the break, the rather inexplicable remake of Nicolas Winding Refn's great crime movie Pusher gets a remake cast, and an endorsement from Mr Refn.
Pusher was one of Nicolas Winding Refn's early success stories — a crime film about two drug dealers in Copenhagen that turns into a chronicle of desperation and failure as the movie goes on. It generated two sequels, both of which are arguably better than the original film, and has already been remade as a Hindi picture. Now there is an English-language version starting to shoot in London, and the cast has been announced.Luis Prieto directs (no, we don't know much about him, either) with model/actress Agyness Deyn, Richard Coyle (Prince of Persia), Bronson Webb (The Tudors) and Paul Kaye (It's All Gone Pete Tong) in the cast.
Nicolas Winding Refn serves as exec producer, and said in a press release,
Pusher was the film that launched my career and to have Luis Prieto direct the remake in London will be an exciting venture. It's a classic tale with strong characters and has an engaging narrative. To see my characters, Frank and Tony in London, one of the most exciting and diverse cities in the world, is an opportunity not to be missed.
This version is being produced by Vertigo Films, which distributed the original Pusher films in the UK and produced Bronson. So there's a business relationship there that led to this remake, and Mr. Refn's endorsement may or may not be a contractually-obligated thing.
The press release even suggests that the original music from Pusher will be used. Which is understandable, because the credits theme is a great, pounding, catchy tune. (Though I prefer the rockingly epic 'With Blood on My Hands,' which closes out Pusher II. Give it a couple minutes for the big guitars to kick in.) Here's the plot description:
As edgy and explosive as Nicolas Winding Refn's 1996 cult classic, this English language remake tells the story of a week in the life of FRANK, a big time drug pusher in London. Frank's life is a fun-filled rollercoaster of a ride that soon spins out of control. Friendships start to vanish, there is no longer room for love within his life, and violence takes over. Danger and chaos are all around and he becomes a man trapped in his own world. Eventually Frank is left with no one to turn to and nowhere to go, becoming a man paralysed with the fear of knowing there is no way of preventing his inevitable fate. Fast-paced, visually striking, witty and with some of acting's finest talents, Pusher will have you gripped from beginning to end.