'Pearl Jam Twenty' Teaser Clip: Cameron Crowe's Doc Briefly Revels In Early Days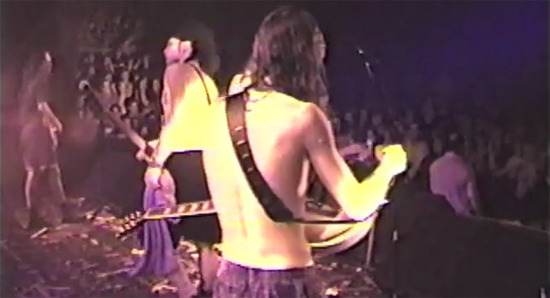 Cameron Crowe hasn't had a film on screens in a while — his last was the tepid Elizabethtown, in 2005 — but he's roaring back with three features in 2011. Roaring, I tell you. One new film is the drama We Bought A Zoo, with Matt Damon, Scarletty Johansson and Elle Fanning. That one will hit in mid-December. Then there is the first of two documentaries, The Union, about the making of Elton John and Leon Russell's album of the same name.
Finally, he's got Pearl Jam Twenty, a doc which celebrates the twentieth anniversary of the band's existence. (Which is actually not quite right, as the band formed prior to 1991, but '91 is when the major debut release, 'Ten,' hit shelves.) Now there's a brief teaser for the doc, which shows the very early days, when Peal Jam played under a different name.
The footage in this teaser is from the days when the band was called Mookie Blaylock, named after the basketball player. (His jersey number would provide the name for the renamed band's first record.)
Cameron Crowe has actually been covering Pearl Jam for just about as long as the band has been around. He filmed them during these early days for the film Singles (for which they provided two new songs, one of which, 'State of Love and Trust' is among the band's best all-out rockers) and wrote a great profile feature on the band for Rolling Stone in 1993.
But the film isn't all fun early stuff — bassist Jeff Ament said last year,
The whole movie is Cameron's love letter to us – but it's equal parts complimentary and really painful. It shows our growing pains and some real bad times, including Roskilde [the 2000 festival show where nine fans were trampled and killed]. It was just really hard to watch.
That actually makes the film sound promising — whether you like Pearl Jam or not, they definitely have made a very specific mark on popular music, and they've done so while doggedly adhering to an idealogy that is very different from the motivating forces behind your run of the mill rock band. Given Cameron Crowe's long association with the band, this one might be one of the better music docs around. [The Playlist]