Anna Faris Now In Talks For Sacha Baron Cohen's 'The Dictator'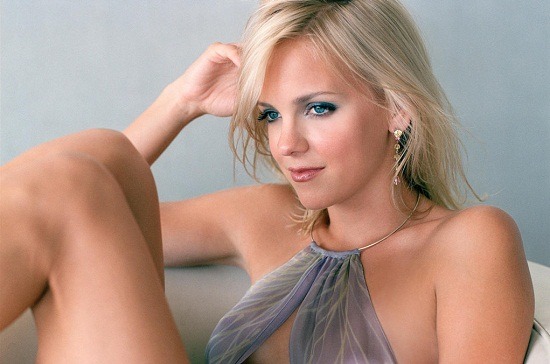 Sacha Baron Cohen is preparing his next semi-improvised, semi-political comedy. The Dictator, which may or may not be inspired by Charlie Chaplin's The Great Dictator (bet on 'may') has Borat director Larry Charles set to direct from a script by Alec Berg, Jeff Schaffer and David Mandel. The script, which has Sacha Baron Cohen playing dual roles, may or may not be followed to the utmost degree.
Last week we heard about an actress shortlist assembled as producers cast the film's female lead, and one of the primary concerns for the woman in question was an ability to improvise. So it isn't much of a surprise that Anna Faris got the nod. She's now negotiating a deal to appear in the film.
Paramount had previously said The Dictator is "the heroic story of a dictator who risked his life to ensure that democracy would never come to the country he so lovingly oppressed. It is inspired by the best selling novel, Zabibah and The King, by Saddam Hussein."
In reporting this casting negotiation Deadline expands upon that quite a bit:
[Sacha] Baron Cohen plays a ruthless dictator who heads to the U.S. for a meeting at the United Nations and finds that his number two has replaced him with an unsuspecting sheepherder lookalike. As the dictator wanders the city, he meets the owner of an organic food store... She turns around his dictatorial thinking, and there's a little romance in it as well.
The organic shop owner would be Anna Faris, as you probably surmised. Reading that description it seems like this one might hew closer to the script than did either Borat or Bruno, but it is pretty tough to call how that's going to go. After Bruno I actually would be more interested in seeing Sacha Baron Cohen do some straight comedic or even dramatic roles (and am very much looking forward to seeing him in Martin Scorsese's Hugo Cabret) but as pairings go, the Cohen/Faris team might be pretty potent. She's so adorably disarming that she might be able to completely undermine the attack of some of his approach; if she forces him to think a little differently this time, that might not be so bad.
As for the rest of the cast, Ben Kingsley will co-star in the film as "one of two Middle Eastern characters who factor into the plot," with Jason Mantzoukas is (The League) in talks for the other role.