Now Chris Hemsworth Is Rumored For 'Snow White And The Huntsman'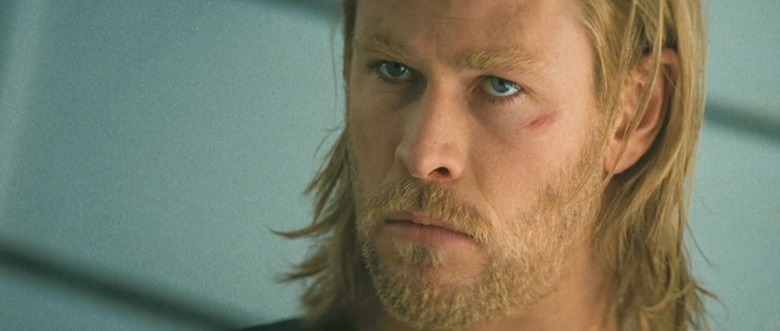 Universal just can't get someone to commit to play the male title role in Snow White and the Huntsman. The latest name to float to the top of the casting cauldron is Chris Hemsworth, who everyone will soon know as Thor. He's truly good in that film — a great screen hero with charisma and physical presence to spare — but would be a lot younger than the Snow White role as it was originally written. What will that do to Universal's film?
Variety announces that the actor is first in line for the role while acknowledging that the Avengers shoot schedule could be problematic. (Snow White is scheduled to shoot this fall, with a December 2012 release date set.) It also notes that he is significantly younger than Viggo Mortensen, the man most strongly linked to the role in past months, and also younger than other actors who have been linked, including Hugh Jackman, Joel Edgerton and Johnny Depp. He's five years younger than the next youngest linked actor, Tom Hardy.
Why does that matter? Because as originally written the Huntsman has his own deep backstory, and is meant to be more a father figure or mentor than a possible romantic interest. (There is a Prince in the script, too.) Casting someone like Chris Hemsworth would possibly necessitate a rewrite. It would be rather  ridiculous to just gloss over the potential romantic interest between Snow White and the Hunstman, who saves her and teaches her the ways of survival, if a younger actor plays the part. If Chris Hemsworth does sign on and brings the personality to this film that he did Thor, playing the part simply as written in current drafts would make for an odd movie.
The other possibly pertinent news is that today Universal President of Production Debbie Liebling has moved on (or been fired, gently) and Peter Cramer and Jeffrey Kirschenbaum are the new co-presidents. In the wake of Universal having the biggest weekend of 2011 so far with Fast Five's massive opening, that's a significant change-up. Does this mean we've seen the end of the studio's slightly unusual development slate, and that a film like this one will be geared to be more mainstream? Possibly, and going younger with the Hunstman, and rewriting the film to have more of a Twilight-style love triangle (remember that Kristen Stewart is this movie's Snow White) could be part of that plan.