Casting Bits: Vanessa Hudgens & Brendan Fraser In 'Gimme Shelter;' Laura Vandervoort In 'Ted;' Anthony Mackie Rumored For Two Films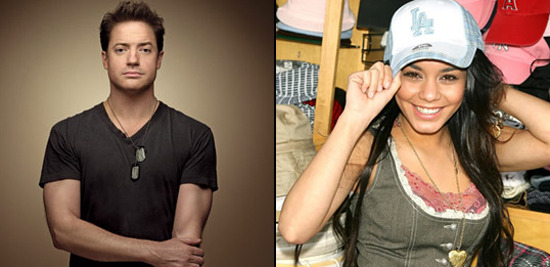 The indie drama Gimme Shelter will go into production at the end of this month in Connecticut, and it has Brendan Fraser set to star, with Vanessa Hudgens now likely appearing as well. Ron Krauss wrote and will direct; the film follows a pregnant homeless girl (Hudgens' role) who "flees her abusive mother and seeks out her biological father. He first takes her in but then throws her out when she refuses to abort her child."
The dad is Brendan Fraser, and it sounds like the sort of not so massively sympathetic role that he doesn't often play. So that could be interesting. As a side note, I understand why the film is titled as it is, but at this point it is really time to leave certain Rolling Stones songs alone, and 'Gimme Shelter' is one of them. [THR]
After the break, Seth MacFarlane's Ted gets one more, and Anthony Mackie might be in line for a couple big films.
Seth MacFarlane's film Ted, with Mark Wahlberg as a guy who is still living with the teddy bear that he wished to life as a child (and which is voiced by writer/director MacFarlane), now boasts Laura Vandervoort, who plays Supergirl on Smallville. Per Deadline, she'll be "Tayna, a gorgeous salesgirl and coworker of John (Wahlberg) at the rental car service who is clueless to the gaggle of men who drool over her all day." Isn't that always a fun fantasy character — the hot girl who doesn't know she's smashingly hot? Does that person actually exist anymore? I have my doubts.
Ted also features Mila Kunis, Joel McHale, Adam Scott, Giovanni Ribisi and Patrick Warburton.
Last but definitely not least, Anthony Mackie is reportedly in line for roles in World War Z, to be directed by Marc Forster, and Tales From the Gangster Squad, to be directed by Ruben Fleischer. (And which may just be called The Gangster Squad, which makes sense from a PR perspective.) Neither role is revealed at this point, and Variety may have pulled the piece that announced his shortlisting, so we may not see either opportunity materialize.
Personally, I'd be rooting for him to join The Gangster Squad, in which he'd join Sean Penn, Ryan Gosling and Josh Brolin in the film about the efforts of a '40s LA police unit to curb the influx of organized crime, represented by Sean Penn's Mickey Cohen, into LA.