Confirmed: Guy Pearce Cast In Ridley Scott's 'Prometheus' [Updated]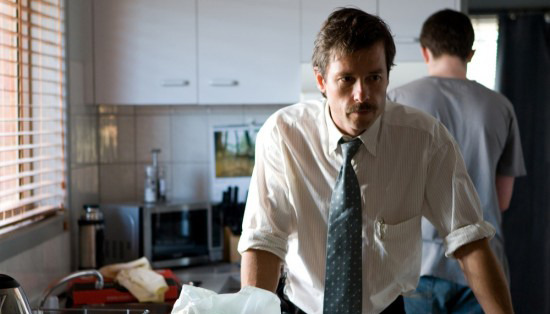 Update: The Playlist has confirmed with the actor's reps that Guy Pearce has been cast in Ridley Scott's Prometheus. No word yet on which role he is playing. The original rumor story runs after the jump.
The mind melts when you realize that Ridley Scott is currently shooting Prometheus, his big budget return to sci-fi and nod to the Alien series. Starring Noomi Rapace, Charlize Theron, Michael Fassbender, Idris Elba and others, the film is so highly anticipated and shrouded in secrecy that any sliver of possible news is worth putting out there. It's the non-superhero equivalent of The Dark Knight Rises or Superman: Man of Steel, except it's already started shooting and has a full cast. Or does it? A rumor is now circulating that Guy Pearce might have a role in the Summer 2012 release.
C.H.U.D. got an email from an anonymous source saying that Pearce appears in the film. Here's an excerpt from the site with the specifics omitted as to not implicate the source:
My mate is working on Prometheus as OMITTED and met Guy Pearce on set today. She's previously worked on OMITTED, OMITTED and OMITTED and I've no reason to believe she's lying. I've not read anywhere about Guy being cast so thought it might interest you.
As C.H.U.D. wisely points out, they don't know who sent this email so it could be total crap. However, they also reportedly corroborated with other anonymous sources that he's in the movie. Take it as it may. But do realize that even if it's true, it may not be a starring role. Pearce, as amazing as he can be, has been known to moonlight as a day player. For every Memento or L.A. Confidential, he's popping up for one scene or two in The Hurt Locker or The Road.
Do you think Pearce is a good match for Ridley Scott's universe? Do you think he's would be better as some kind of corporate suit or laborer on the ship?