'One Day' Trailer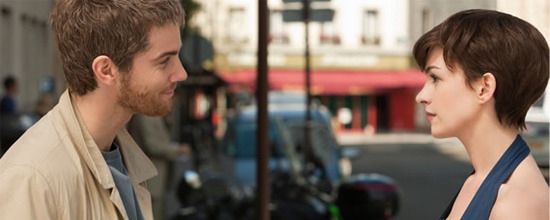 An Education director Lone Scherfig decided to follow up that film with One Day, an adaptation of the novel by David Nicholls (he also scripted) in which a young couple spends their college graduation night together, and then we see their relationship/friendship evolve over the following years by sampling one day each year. So there's a long timeline that theoretically allows a lot of interplay between the characters, and an opportunity to portray quite a few different pop-culture eras. It's When Harry Met Sally and Friends With Benefits and Same Time, Next Year all in one.Anne Hathaway and Jim Sturgess star with support from Patricia Clarkson, Romola Garai and Jodie Whittaker. The trailer is out now; it lurks after the break, bumming me out.An Education was very satisfying, but based on that trailer One Day looks...just...bad. Let's run down a few of the problems here:
Jim Sturgess hasn't earned my patience for a character that seems this insufferable. Many other actors could come off looking like the pompous twat this character seems to be, but I'd have faith that they were going to take it somewhere. I don't yet have that belief in Jim Sturgess.
As a corollary to that, I'll refer to what a friend just said when I asked him to watch this: "I can suspend disbelief. I can totally accept impossible monsters in space. But I can't buy that this guy has Anne Hathaway and is all blase about it." Amen.
Anne Hathaway's accent. Maybe this is part of why he's so blase. I try to go easy on actors and accents, but here she sounds like there is an audio editing station in her head that is just a half-second off as it tries to assemble these lines of dialogue in real-time. In some of the lines I fancy I hear four or five different accents. Part of that is the way the trailer is edited — it's almost as if whoever put this together was deliberately trying to undermine any perception of her performance.
One Day opens on August 19 and I dearly hope it is a lot better than this trailer promises.