Arnold Schwarzenegger To Star In 'Cry Macho'?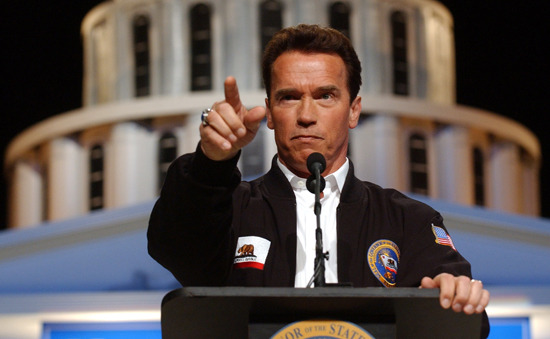 Fresh from the Governor's office in California, Arnold Schwarzenegger jumped into the 'y'know, for kids!' silliness of The Governator animated series, and is already slated to return to The Terminator franchise. But his talk about wanting to find roles more appropriate to an aging action hero was evidently not just talk. Before he makes The Terminator, it looks like Arnie will star in a very Clint Eastwood-like film called Cry Macho.
Brad Furman (The Lincoln Lawyer) will direct, says Vulture, based on the novel by the late N. Richard Nash, who also wrote the script before his death in 2000.
The film is about " a damaged-goods horse trainer who's just been ignominiously put out to pasture by his feckless boss. In exchange for some retirement money, the broken — and broke — horseman agrees to kidnap the boss's 11-year-old son from his rich Mexican ex-wife. Things take an unexpected turn, however, when the ex-wife is all too glad to be rid of her juvenile delinquent."
The Clint Eastwood film A Perfect World comes very quickly to mind, and the Eastwood-ness of the script is so apparent that he was actually attached to play the character at one point. Arnold has been attached to this one, too, almost ten years back, but that was before politics. Now that he's back and has a couple political terms behind him, he might be in better shape than ever to tackle a film like this one. Is this really a role that will work for Arnie? Without having read the script I can't begin to guess, but I'd much rather see him trying to stretch a bit than going back to the obvious pasture of The Terminator.