Mark Wahlberg Developing A Basketball Drama With Justin Bieber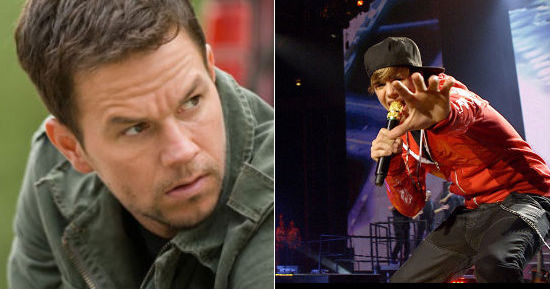 In Harry Potter and the Prisoner of Azkaban, Hermione Granger had so much work to do she used a device called a "Time Turner," enabling her to be in multiple places at one time. It's quite possible Mark Wahlberg has one of these devices. With the sheer amount of films he's currently developing, a Time Turner seems as logical an explanation as any. By our count the Oscar-nominated, former leader of the Funky Bunch is currently working on, or is attached to, at least 10 films.
Throw another project on the top of the pile. Wahlberg just revealed that he's developing a basketball film with music mega star Justin Bieber. Read his quotes and more about the film after the jump.
Wahlberg was talking to Vulture at the Time 100 Gala when the following exchange happened:
And is there somebody, sort of unexpected, that you want to work with?
Yeah, Justin Bieber and I are going to do a movie together ...
Is that actually true?
Well, we're putting it together. Yeah. We're doing it at Paramount. We pitched them the idea and, you know, we're talking about doing it. He loves the idea. He's been sending me video, he sent me a video of himself, and, yeah, I think he's really talented.
But what could this mystery project be about? Drama? Comedy? Wahlberg wouldn't say much at the time except for this:
More of a drama. It's interesting, right? You want to know. They'll probably announce it. They may announce it fairly soon ... kind of like a reluctant mentor in an inner-city environment. You know, I don't want to say.
Deadline, on the other hand, has no problem saying. They exclusively broke the full details on the project.
It's a basketball film, which would star Wahlberg as a mentor and Bieber as a young player, sort of in the vein of The Color of Money or The Karate Kid. The script is being penned by Ian Edelman, creator of HBO's How To Make It In America, which Wahlberg is a producer on and the idea for the film came about after Bieber was named the MVP of the celebrity game held during the NBA's All-Star Weekend.
I've gone on record saying I was a fan of Jon Chu's Justin Bieber Never Say Never but it wasn't for Bieber's acting skills. Him making that transition makes sense though. Hollywood has a long standing tradition of taking major pop stars and putting them in movies – Elvis Presley in everything, Prince in Purple Rain, Michael Jackson in The Wiz, Britney Spears in Crossroads, the list goes on and on. What's more surprising is that Wahlberg, who has become quite prolific, would be involved in the obvious cash grab.
If the trailer and story grabbed you, would you let a Justin Bieber-bias turn you off from this movie?