Superhero Bits: Two New 'Green Lantern' Posters; Mark Ruffalo Explains Where The Hulk Fits In 'The Avengers'; Hans Zimmer Comments On 'The Dark Knight Rises' Score; New 'Captain America' Image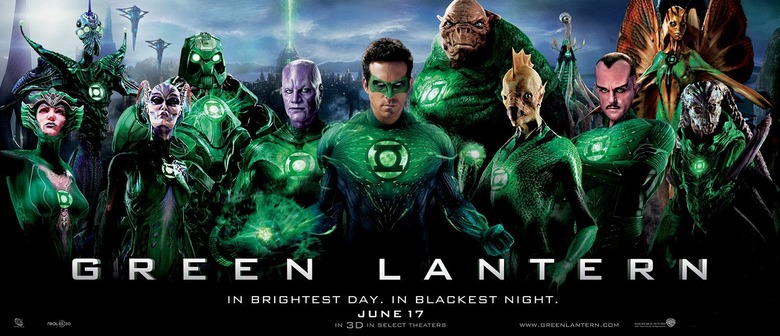 Above you'll find a high-res version of the latest banner poster for Martin Campbell's Green Lantern, which was released today via MTV and features the whole of the Green Lantern Corps looking united and badass and more than a little stoic. It joins the release of a great new one-sheet for the film, which you can check out after the break, along with a bunch of other comic book movie tidbits and updates.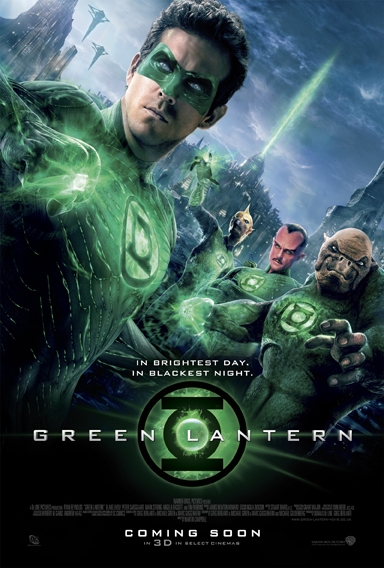 That's a non-watermarked version of the poster from Empire, but you can also check out a higher res watermarked version over at Yahoo! Movies.
Shifting over to Marvel news, Mark Ruffalo has been talking up his Bruce Banner/Hulk role in The Avengers while doing the rounds for his film Sympathy for Delicious, and what he's had to say provides a revealing-but-not-spoilery glimpse into how he fits into the film.
He has an interesting thing with Black Widow, actually. And him and Tony Stark are... You know, he's like the fallen angel version of Tony Stark. He was the renegade professor who was kind of a rebel, arrogant, kind of doing things that were unorthodox. There's a real admiration between the two of them that's interesting, and Tony Stark really enjoys the idea of watching this guy turn into The Hulk. So he's nudging him in an interesting sort of way. There's a lot of nice, fun play between the two of them.
That's from MTV, and it provides a nice point of contrast to the relationship between Tony Stark and Captain America, which isn't nearly as playful. As for what the rest of the team thinks of him, here's what he had to say during his appearance on Jimmy Kimmel Live (via Comic Book Movie).
He's like the teammate none of them are sure they want on their team. He's a loose cannon. It's like, 'Just throw a grenade in the middle of the group and let's hope it turns out well!
Not that I would expect anything less from a man whose strong suit is character interaction, but it's comforting to know that Joss Whedon has a pretty good handle on the dynamic between the Avengers team members.
Watch all the interview clips below.
And just for kicks, here's one with Ruffalo sporting some giant Hulk hands.
MTV also has another cool quickie interview, this one with composer Hans Zimmer discussing the score for The Dark Knight Rises. When asked if he was hard at work on new themes for the film, he replied, "Of course. Chris likes working that way, that I can give him music before he starts cutting. It's very different."
He adds,
...the thing about Chris [Nolan] and myself is, of course what we try to do is we treat each one with the autonomy it deserves. I try to invent and reinvent and not just go over old ground. I think that's the thing that was exciting for people on The Dark Knight. They knew we were doing a Batman movie, but they had no idea it was going to be that sort of a Batman movie.
Watch the interview clip below.
Lastly, Hero Complex (via Comic Book Movie) has an amusing new image from Captain America: The First Avenger that features Chris Evans deflecting bullets with a cab door.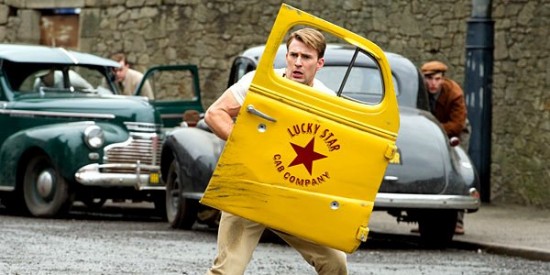 Didn't Steve Rogers also try to defend himself with a trash can lid at one point in the trailer? I guess the Cap really does need that shield after all.