'Piranha 3DD' Now Has 50% More Teeth As Gary Busey Joins Cast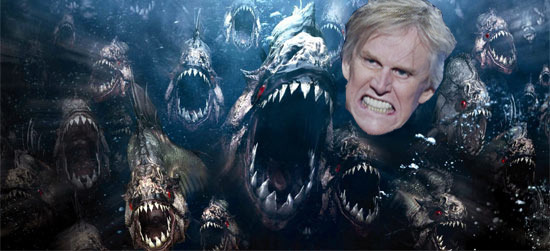 Now this is more like it. The basic cast of Piranha 3DD was announced earlier this week, but aside from the laughter inspired by the film's title, which is so silly it defies all ridicule, the general response was a shrug. Without some of the better actors from the first film (Richard Dreyfuss, Ving Rhames, Elisabeth Shue, Christopher Lloyd, Adam Scott and even Jerry O'Connell — in other words, the entire top-billed cast) this sequel seems like little more than the reflex action of the sequel-happy Dimension Films. And now that Gary Busey has been added there is no reason to reverse that opinion, but at least some parts of the movie are now more likely to be a lot of fun.
The press release announcing his addition to the cast doesn't specify a role. *Crosses fingers* Please play a scientist, please play a scientist, please play a scientist. The one thing I would figure we can rely on is that he won't live through the movie.
John Gulager (Feast) is directing Piranha 3DD now; the cast includes Danielle Panabaker (The Crazies), Matt Bush (Adventureland), Chris Zylka (The Amazing Spider-Man), David Koechner (Anchorman), Meagan Tandy (Unstoppable),  Paul James Jordan, Jean-Luc Bilodeau, Hector Jimenez, Adrian Martinez, and Clu Gulager.
Here's the plot. Maybe Mr. Busey is the operations manager at the water park?
There's something in the water . . . again.  And this time no one is safe from the flesh eating fish as they sink their razor sharp teeth into the visitors of the best summer attraction, The Big Wet Water Park.