Zorro Heading To The Future In 'Zorro Reborn'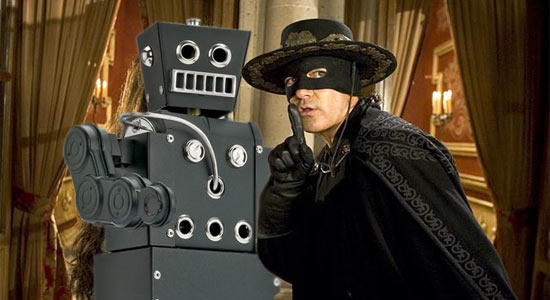 Zorro has been making appearances in film for almost 100 years, but the most recent incarnation of the character played against tradition, with Anthony Hopkins playing an aged Don Diego de la Vega handing off the mask to a misfit outlaw played by Antonio Banderas. That was of course The Mask of Zorro, directed by Martin Campbell, who later followed up that film with the more family friendly The Legend of Zorro. The first film was moderately successful — enough, anyway, to get a sequel greenlit — but its follow-up barely even registered, either at the box office or with critics. At the time, it seemed like the character would be retired from movies, at least until a studio ran out of ideas and figured out a way to bring him back.
Only six years later, that time has come.
24 Frames is reporting that Zorro is about to undergo another reinvention. 20th Century Fox is developing the reboot — titled Zorro Reborn — and rather than it being a swashbuckling period piece, the film will be a western set in a desolate and post-apocalyptic future, with "echoes of both Sergio Leone and No Country for Old Men". As they describe it, this version of the character will see him as "less a caped crusader for justice than a one-man vigilante force bent on revenge". The article also refers to the studio looking for "a young actor", so feel free to take that however you will.
The duo behind the screenplay are Lee Shipman and Brian McGreevy, the same men responsible for Warner Bros.' Dracula retelling Harker. Directing the film is Rpin Suwannath, who has previously served as a previsualization specialist on films like The Matrix, Serenity, The Chronicles of Narnia series, Bryan Singer's X-Men films (including First Class). We often see visual effects artists (unsuccessfully) make the transition to directing, but a previsualization specialist? Quite the upgrade. I'll be curious to see how he fares.
As for the concept behind the film, it sounds so ridiculous that it may have whipped past "awful" and crossed straight into "awesome" territory. What do you guys think? Are you on board, or does this mark yet another sad attempt by Hollywood to modernize past properties in a bid for barely relevant brand recognition?