New Images: 'Conan,' 'Transformers,' 'Captain America,' 'Green Lantern' And 'X-Men: First Class'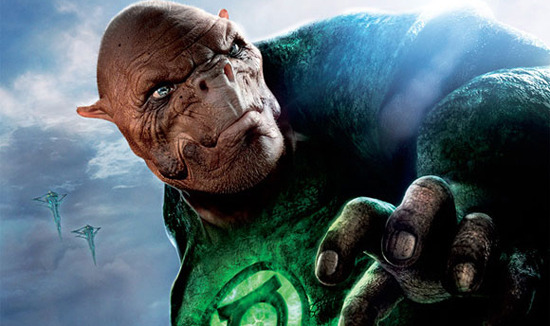 There are a whole bunch of new photos from summer films hitting the internet today: a new image of Captain America and his slightly battered shield; super-detailed character posters featuring Sinestro and Kilowog from Green Lantern; new Transformers: Dark of the Moon shots, and probably the best look yet at Jason Momoa as the new Conan. They're all after the break.
Going left to right in the gallery below, you've got a new Captain America image from MTV, followed by a new cast photo from X-Men: First Class that also comes via MTV. Hit the space after the gallery, too, to get some comments from Zoe Kravitz about playing Angel in First Class.
BleedingCool and Yahoo both claim exclusivity on the Green Lantern character sheets, but all that matters is that you can see Kilowog in all his glory. I'm looking forward to really hearing him, as voiced by Michael Clarke Duncan, but in the meantime I'll enjoy the fact that WB is really selling Green Lantern on the basis of the alien Lanterns.
Speaking of aliens, via Apple come two new shots from Transformers: Dark of the Moon, including our best look yet at the film's human special effect, Rosie Huntington-Whiteley. We'll see a trailer for the film later this week, and perhaps that will give us some sense of how she'll come across onscreen alongside Shia and all the CGI.
Finally, also from MTV, there's the new shot of Jason Momoa from Conan the Barbarian 3D, and he's looking almost regal. He certainly looks powerful. This movie is a massive dark horse — nearly an unknown quantity at this point, I really don't know if it is safe to expect anything at all out of it.
If you've wondered more about Angel, the character played by Zoe Kravitz in X-Men: First Class, here's how the actress explained things to MTV:
She has such a cool background, but that is not in the film. You meet her later when they're recruiting these mutants to form the first group of X-Men. ... [Xavier and Magneto] come to find me, knowing about my mutation, and I'm working at a go-go club. I don't know what they're there for, so I take them in back for a private dance and then we show each other our powers.