'Lord Of The Rings' Extended Editions Coming Back To Theaters This June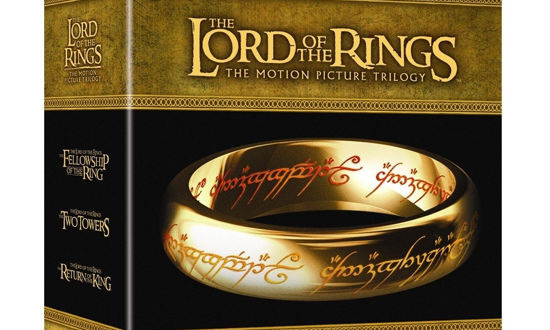 We may receive a commission on purchases made from links.
Before June 28, when your Blu-ray player can finally take the long route to Mordor, the entire extended edition of Peter Jackson's Oscar-winning Lord of the Rings trilogy returns to the big screen. AMC, which has been playing a lot of classic films in anticipation of big Blu-ray releases, will show the extended editions of The Fellowship of the Ring, The Two Towers and The Return of the King on consecutive weeks in June, opening on the 14th, 21st and 28th respectively. Read more after the break.
The One Ring broke this news (with a heads up from First Showing) and both sites are just as excited as we are about it.
The three week event beings on June 14 with The Lord of the Rings: The Fellowship of the Ring (Extended Edition), continues on June 21 with The Lord of the Rings: The Two Towers (Extended Edition) and concludes with the Best Picture winning The Lord of the Rings: The Return of the King (Extended Edition) on June 28th 2011. That's also the same day the extended edition blu-rays come out in stores.
The AMC website lists each of these screenings as "Director's Cut Events" and The One Ring promises more information in the coming weeks. You can bet Peter Jackson will record some sort of new introduction for each film and they will certainly give out limited edition posters – they've done that with all of the other classic screenings in the past. You can check each film's page over on AMC's official website: Fellowship of the Ring, The Two Towers, The Return of the King. Tickets are on sale now.
On December 16, 2003, my friends and I did the marathon of the Fellowship and Two Towers extended editions before watching Return of the King at midnight on opening night and it was an epic experience. Then, when Return of the King finally came out on Extended Edition DVD, I realized that my original marathon was the ideal one: Extended edition for the first two, theatrical for the third. There's a reason why Jackson won all the Oscars for Return of the King, it's a modern day masterpiece, and the extended edition of it screws up the pacing, ruins surprises and more. In my opinion, it's the worst of the three extended editions. But that's surely open to debate.
Are you going to head to your local AMC for these screenings? Which of the extended editions is your favorite?