'Fast And Furious' Franchise To Shift Focus From Car Culture To Heist Action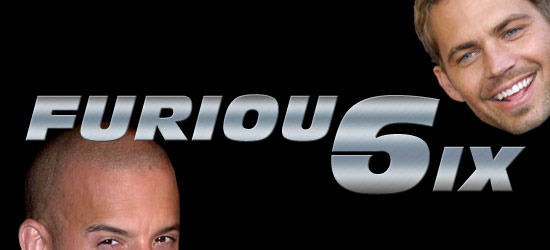 Universal is preemptively prepping the sixth entry in the [The] Fast and/or [the] Furious saga — having already hired on the series' go-to writer to tackle the screenplay — and based on how well Fast Five is performing in the territories it's already been released, their hubris will likely pay off. But that doesn't mean they intend to just keep milking the franchise until it runs its course. Oh, they'll keep milking it alright, but their strategy is to mix up the genre appeal of the films, hopefully generating interest among those who have previously written them off as being nothing more than dumb action films for car nuts.
Universal chairman Adam Fogelson explained the focal shift in an interview with Deadline, describing Fast Five as "the transitional movie." The change marks a proactive response from Universal to keep one of their hotter brands relevant with today's audiences. They recognized that a series centered predominately around street racing and car culture was potentially limiting, and in all likelihood would not be capable of sustaining the prolonged franchise success that they hope to achieve. With Fast Five, the goal was to slowly step away from the car-centric approach of the prior installments and set up a series of heist films. Fast Six, as Deadline is calling it, will reportedly revolve around a major robbery.
The question putting Fast Five and Fast Six together for us was: Can we take it out of being a pure car culture movie and into being a true action franchise in the spirit of those great heist films made 10 or 15 years ago? We've heard so many people say, 'I've never seen one, and I've never wanted to see one,' about the Fast franchise. So if these movies were still about street racing, there was probably a ceiling on how many people would buy tickets. We wanted to see if we could raise it out of about racing and make car driving ability just a part of the movie, like those great chases in The French Connection, The Bourne Identity, The Italian Job. Our strategy behind one of the biggest bets we've ever made is that the business has gone so far towards CG action every weekend, that we really believe creating a movie with real action and real cars will be amazing stuff to people excited by seeing something real.
For those curious about how Fast Five will lead into the subsequent entries' more heist-oriented adventures, Fogelson remained vague, but did allude to a cliffhanger ending that should prepare fans for what to expect during the next go-around.
...we've absolutely left perfect room for where we want to go with this franchise. I don't want to give away too much, but there are a lot of surprises at the end of Fast Five involving one of the biggest characters of the previous movies which will set up the franchise now as a series of heist action films.
You can also probably count on seeing Dwayne Johnson back again, as he was the one who approached Universal with the desire to become part of the franchise, and according to Fogelson, he wants to stay on for the sixth film as well.
Amusingly, even with Fast Five signaling the series' semi-departure from vehicular mayhem, the chronological narrative of the series will still ultimately find it coming full circle back to street racing, since Tokyo Drift takes places after the events of the rest of the films. (For now, anyway.) Ah, what a vast, complex mythos these films have produced.