Casting Bits: Mireille Enos In Talks To Play Brad Pitt's Wife In 'World War Z'; Mindy Kaling Joins 'Five Year Engagement'; Joel Kinnaman Joins Universal's 'Safe House'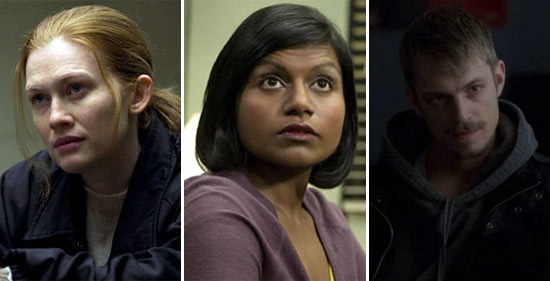 AMC's new series The Killing premiered not too long ago to rave reviews from critics, and already its stars are benefiting from the exposure. Either that, or this is simply proving to be a very fortunate time in their careers.
First up in casting news is Mireille Enos, who centers The Killing as its know-it-all detective Sarah Linden. She's in talks to star alongside Brad Pitt in World War Z, the adaptation of Max Brooks' zombie bestseller that only recently was recently fast-tracked by Paramount after countless delays and financial troubles. She would play Karin Lane, the wife of Gerard Lane (played by Pitt) and mother of his two children. This marks her first major studio starring role, having otherwise had only a three-season stint on Big Love and a number of bit TV roles. [Deadline]
Going in order of importance, let's side track away from The Killing for a moment to give a shout out to The Office's Kelly Kapoor, played by Mindy Kaling. She's been cast in Five Year Engagement, the latest Judd Apatow-produced comedy from Forgetting Sarah Marshall and Get Him to the Greek director Nicholas Stoller. Stoller co-wrote the film with Jason Segel, who stars alongside Emily Blunt as a couple experiencing numerous highs and lows throughout their extended engagement.
Kaling joins a supporting cast that includes Jacki Weaver (Animal Kingdom), Rhys Ifans (The Amazing Spider-Man), Chris Pratt (Parks and Recreation), Alison Brie (Community), David Paymer (Drag Me to Hell), Kevin Hart (Death at a Funeral) and Lauren Weedman (Date Night). She'll be playing one of Ifans' grad students.
This is another nice break for Kaling, who (outside of The Office) most recently appeared in Ivan Reitman's No Strings Attached. Production for Five Year Engagement begins next month. [Variety]
Back to Killing-related casting we have Joel Kinnaman, who co-stars in the AMC shows as a shady homicide detective assigned to work with Sarah Linden (played by Mireille Enos). Now he'll be sharing the screen with Denzel Washington and Ryan Reynolds in Daniel Espinosa's Safe House, a thriller that "follows the only surviving agent of an attack on a CIA safe house (Reynolds) as he tries to transport a lethal prisoner (Washington) to a second destination before being taken out by violent forces that want them both dead". Kinnaman, who also starred in Espinosa's previous film Snabba Cash (aka Easy Money), serves an integral role as a man who operates a safe house where Reynolds and Washington show up.
Also co-starring in the film are Vera Farmiga, Brendan Gleeson, Sam Shepard, Robert Patrick, country singer Tim McGraw and salsa singer Ruben Blades. Safe House is currently shooting in South Africa.
Having not yet watched any of The Killing (I've been resistant to check it out for some reason or another), I can't speak to the merits of either Kinnaman or Enos, but being that I've heard only superlatives used to describe every aspect of it — including the acting — it seems only sensible to presume their being cast in anything qualifies as good news. [The Hollywood Reporter]