Johnny Simmons Added To 'The Perks Of Being A Wallflower' And '21 Jump Street'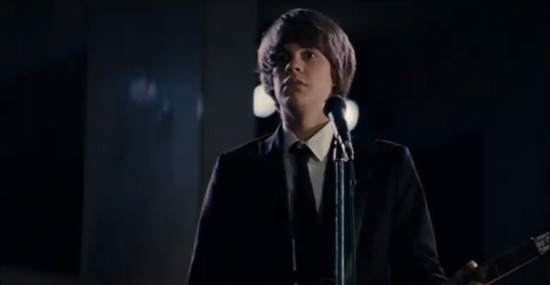 One of the consistently great things about Scott Pilgrim vs the World was Johnny Simmons, who didn't get a lot of screen time but still managed to shine as  the wide-eyed aspiring bass player Young Neil. He's only been in The Conspirator since, and was announced for The Hand Job. Now he has scored two new roles, in 21 Jump Street and The Perks of Being a Wallflower.
That's the order in which he'll shoot the films. (21 Jump Street is shooting right now) but at this point we don't know what roles he has in any of the films.
The story behind 21 Jump Street probably goes without saying at this point, as we've covered the hell out of it in the past year. Jonah Hill and Channing Tatum are cops undercover in a high school, Johnny Depp will cameo (the TV show on which the film is based was his first brush with fame) and Phil Lord and Chris Miller, the directors of Cloudy With a Chance of Meatballs, are directing.
The Perks of Being a Wallflower stars Logan Lerman and Emma Watson with Stephen Chbosky adapting his own novel; Mae Whitman, Paul Rudd and Nina Dobrev are all in the cast, too. The film tells the story of "15-year-old Charlie, an endearing and naive outsider, coping with first love, the suicide of his best friend, and his own mental illness while struggling to find a group of people with whom he belongs."
The announcement of those two roles also confirms his presence in the indie sex comedy The Hand Job. We've covered his appearance before, but it's a small film so I'll give it some more space: the film  stars Aubrey Plaza as a recent high school grad who decides she needs a lot more sexual experience before college, and so decides to work her way through a checklist of sexual action items. Connie Britton will play the main character's "liberal, free-spirited mother," Mae Whitman and Alia Shawkat are two of her best friends; Scott Porter will play a guy in a band that Plaza has a crush on; Dominic Dierkes and D.C. Pierson (along with their Derrick Comedy co-member Don Glover) will play lifeguards; Bill Hader will be their stoned boss at the pool. Johnny Simmons is Plaza's classmate and co-worker, and Christopher Mintz-Plasse is his sci-fi nerd best friend. That's a great cast full of some of the best new comedy stars and promising up and comers; of all these three films it's the one I'm most hopeful for. [Variety]