'Piranha 3DD' Begins Shooting; Cast Includes Danielle Panabaker And David Koechner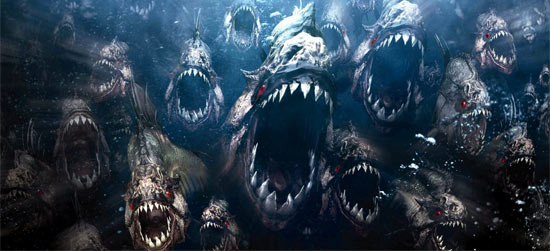 What more do you need to know about the sequel to Piranha 3D, other than the fact that this one is called Piranha 3DD? Title should tell you everything you need to know. Still, here's some news from The Weinstein Company: the film is shooting now under the direction of John Gulager (Feast) with a cast that includes Danielle Panabaker (The Crazies), Matt Bush (Adventureland), Chris Zylka (The Amazing Spider-Man), David Koechner (Anchorman), Meagan Tandy (Unstoppable),  Paul James Jordan, Jean-Luc Bilodeau, Hector Jimenez, Adrian Martinez, and Clu Gulager.
More chum will be announced soon. David Koechner is good, but where's the cameo to match Richard Dreyfuss? Where's Christopher Lloyd? Where are the porn stars? I assume the porn stars will show up, and theoretically Christopher Lloyd could return, as he's one of the few members of the cast of the last film who wasn't torn to pieces. (He — spoiler! — got to announce that the piranha they'd been fighting all this time weren't mature, as you might recall, setting the stage for mega-piranha in this sequel.)
Oh, you want to know the plot of this new one? Teeth, boobs, blood. That's pretty much it. But here's what the studio says:
There's something in the water . . . again.  And this time no one is safe from the flesh eating fish as they sink their razor sharp teeth into the visitors of the best summer attraction, The Big Wet Water Park.
My real question is: Dimension, how can you announce the production start of a film with that title and not send along an image? You know how this works, right?
The film comes out on November 23, 2011; it can be your Thanksgiving family outing to the movies.