New Images And Video From Recent 'Captain America' Epilogue Shoot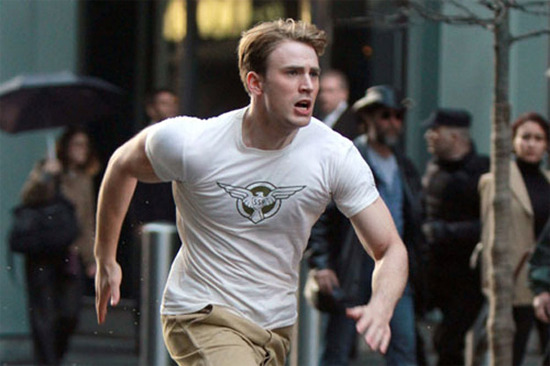 On Saturday, Joe Johnston and his crew took to the streets of New York City to shoot a scene with Chris Evans and another actor for Captain America: The First Avenger. The shoot appears to be from the end or epilogue of the film — we know that Captain America climaxes with Cap being frozen, and that he'll be thawed in the 'current' timeline to prepare him for The Avengers. (Which starts shooting today.) This shoot would seem to be part of the sequence that sets Cap up for inclusion in the Avengers, as you'll see from the other participant in the scene. Spoilers — not particularly surprising ones, mind you — follow.
So it seems that we can expect the post-credits sequence for the film to take place on the streets of NYC. Not quite what I would have guessed, but we'll see soon enough where these shots really fit in.
If nothing else, consider this some great PR for Captain America, as the shoot took place right amid the teeming masses of holiday weekend visitors to NYC's Times Square. Captain America has already been doing well thanks to a trailer that people seemed to react to with a very positive take, but putting stars out on the street in full view of huge crowds doesn't hurt.
(And, yes, there's some confusion as to whether this might have been a shoot for The Avengers, rather than Captain America. But some reports put Joe Johnston at the scene, and one of the videographers below claims to have verified with crewmembers that this was for Cap. Still: skepticism in this case is not a bad thing.)
Captain America: The First Avenger opens on July 22 of this year, and stars Chris Evans, Hayley Atwell, Hugo Weaving, Sebastian Stan, Toby Jones, Samuel L. Jackson, Dominic Cooper, Tommy Lee Jones, Stanley Tucci, Neal McDonough and Derek Luke.