'Bill & Ted 3' Script Is Finished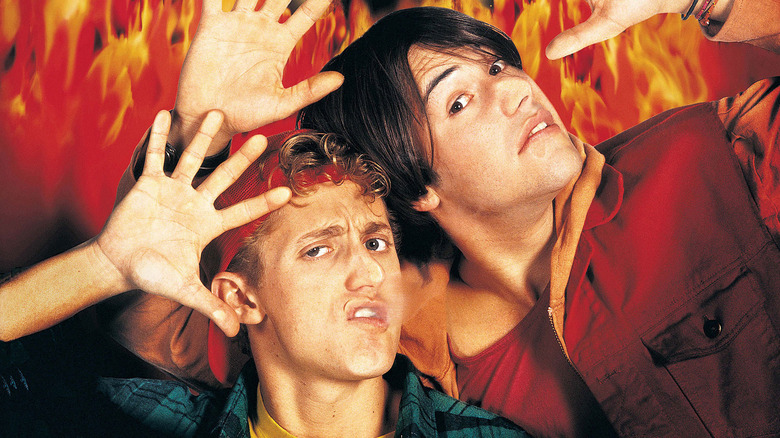 A year ago, Keanu Reeves said in an interview that he was "trying" to get a third Bill & Ted film made, and we weren't sure if he was joking. In retrospect, I'm not sure why we were doubtful — it seems like every other popular film from the '80s and '90s is getting a reboot, remake, or sequel, so why not Bill & Ted? Over the past year, he and former co-star Alex Winter have mentioned Bill & Ted 3 in various interviews, and now some real progress has been made on the project: According to Winter, the script has now been completed. Read more after the jump.
"@antmaurizio: Bill & Ted 3, less than 6 weeks away and counting? Movie is gonna kick some ass." > Just got the script. And now to read...
The last time we heard about the script was about three weeks ago, when Reeves confirmed that a script was about six weeks from completion — so not only is Bill & Ted 3 actually moving forward, it's actually a bit ahead of schedule. Back in September, Reeves revealed that Chris Matheson and Ed Solomon, who wrote the first two installments, "were gonna try and see if they can write something," so I'm assuming Matheson and Solomon are the ones behind the recently completed script as well.
As previously reported, the premise of Bill & Ted 3 is as follows:
When we last got together, part of it was that Bill and Ted were supposed to have written the song that saved the world, and it hasn't happened... So they've now become kind of possessed by trying to do that. Then there's an element of time and they have to go back.
Which sounds fun, but the part that really makes me happy is this quote, from an earlier interview with Winter:
We kicked around the idea over the years and had always thought if we could make something that was as kind of genuine in spirit as the originals and without falling prey to kind of retro cynicism or something that was unnecessary, it would be worth doing... [T]he truth is that, yeah, we have finally hit upon an idea that we think is pretty great.
I wouldn't have been interested in a knowing, sarcastic take on Bill & Ted — such a large part of the appeal of the characters is how open and sincere they are. A film that returns to that same tone, though, is something I could potentially get behind.
The new film will see Winter and Reeves reprising their roles. It is not known at this point when Bill & Ted 3 is expected to come to theaters.