Infographic: Netflix Google Searches Way Up, DVD Searches Down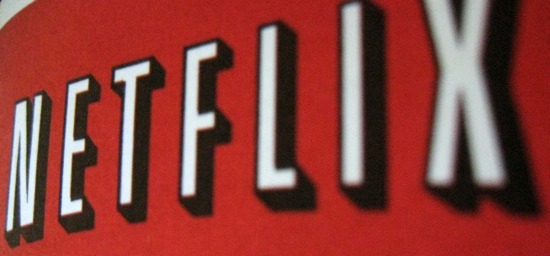 As much as we're all fans of the theatrical experience, Hollywood is always fighting off its rivals. Recently, there's been a lot of talk about premium video on demand, a service that allows viewers to see movies in their homes only two months after they're released in theaters, but that's simply the latest contender for the throne. Piracy is always a big worry, though some studios have found innovative ways to try and use that data. Random streaming sites pop up online too but now, new Google data suggests the biggest competitor for your home entertainment dollar remains the tried and true Netflix. Searches for "Netflix" have been rising exponentially in the past few months while other terms have steadily decreased or plateaued. See the infographic and more after the break.
Here's the graph, thanks to Google and All Things Digital.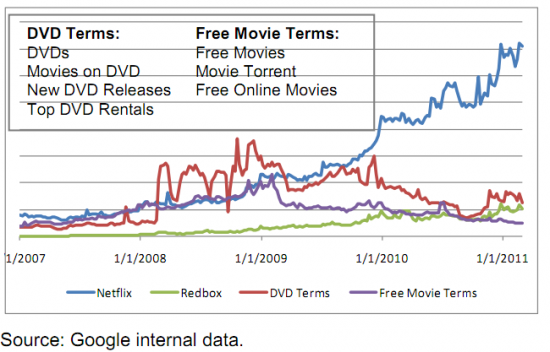 As you can plainly see, searches for the term "Netflix" are rising at an incredible rate while "DVD Terms" (such as DVD, Blu-ray, etc), Redbox and "Free Movie Terms" (such as piracy, torrents, etc.) are all sort of petering out.
The most obvious reason for this is, as video stores continue to close, people's desires to rent a movie on a Friday night do not. And when you think about renting a movie, and can't go to Blockbuster, what's the brand name that comes into your head? Netflix. Netflix is certainly taking advantage of this, too. They've recently gotten into the original programming game with Kevin Spacey and David Fincher and have solidified several ideas to keep their streaming content fresh, though that's not something everyone is behind.
The other stand out fact in this graphic is that the "free movie terms" aren't as searched as one might think. Here's what All Things Digital had to say about that:
Google's chart also shows "free movie terms" declining after 2009. Does that mean piracy is declining, too? That seems hard to imagine. Here's [BTIG Research Analyst Rich] Greenfield's thought: "We wonder if the key change is that piracy is increasingly being driven by linking sites versus consumers simply searching for torrent links (meaning consumers know to start at a particular site to search for pirated movies versus searching Google to get to the linking page itself). In addition, we suspect social media is increasingly driving piracy as consumers are simply posting links to storage locker locations to stream/download files illegally, mitigating the need to search Google itself."
There's some more analysis of these stats over on All Things Digital so check those out. What are your thoughts on these Google search trends? Do you find yourself using Netflix more instead of buying DVDs or Blu-rays?