John Travolta, Uma Thurman And Blake Lively Join Oliver Stone's 'Savages'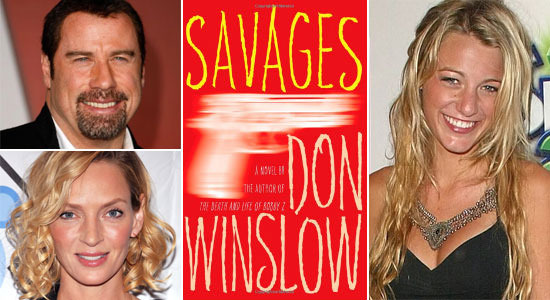 Jennifer Lawrence was closing in on a starring role in Oliver Stone's Savages — an adaptation of Don Winslow's novel of the same name, in which the polyamorous gal playmate of two pot-dealing buddies is kidnapped and held ransom by a drug cartel — but that fell apart when she got swept off to compete in The Hunger Games. Many names were in the mix to take over the role, but Blake Lively became the frontrunner. Now she's confirmed for the film, and John Travolta and Uma Thurman are joining her for the ride. Learn more about the parts they'll be playing after the break.
Deadline broke news of the casting, which nearly rounds out an ensemble that already includes Taylor Kitsch, Aaron Johnson, Salma Hayek and Benicio Del Toro.
Kitsch and Johnson play the pot growing best friends Chon (a former Navy SEAL) and Ben (the more laid-back and mellow of the two), and Lively plays their trippy female companion and accomplice, O (short for Ophelia). When the Baja Cartel sends the duo a threatening message to coerce them into working for them, the dealers refuse, and cartel thugs abduct O and hold her for ransom. Del Toro plays Lado, a vicious cartel enforcer who gets off on removing the heads of their competition with a chain saw, and he takes orders from the Mexican cartel queen-pin Elena, played by Salma Hayek.
John Travolta, meanwhile, plays a burned out DEA agent named Dennis, while Uma Thurman plays O's scatterbrained and oft-married mother Paqu (an acronym meaning Passive Aggressive Queen of the Universe). Fingers crossed for a Be Cool Pulp Fiction reunion.
Universal is backing the film, which will begin production in early July. The script was adapted by Don Winslow himself, along with — gulp — Aliens vs Predator: Requiem scribe Shane Salerno.