Jeremy Renner Offered Lead In 'The Bourne Legacy'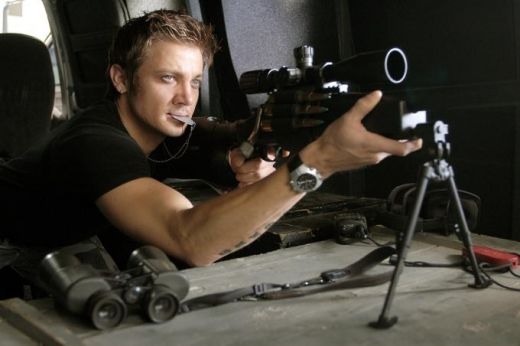 Jeremy Renner has, inexplicably, become your new action franchise star. Well, it isn't quite inexplicable: he's a great actor who has left a mark on audiences with performances and scored consecutive Oscar nominations for his roles in The Hurt Locker and The Town. It's just that it seemed at one point like he might go towards a career path that wasn't so blockbuster-oriented. He just finished Mission: Impossible – Ghost Protocol, the fourth entry in a franchise for which he's being groomed as the new lead. He's shooting Hansel & gretel: Witch Hunters right now and then will jump into Joss Whedon's The Avengers, which likely locks him in as at least a Marvel Studios supporting player for some years to come.
And now Universal wants him for Tony Gilroy's The Bourne Legacy, as well. After being strongly rumored for the role that will succeed Matt Damon in the thriller series, an offer has now gone out to offer him the role.
Several sites (Deadline, THR, Variety) all have the news, and the angle is basically the same from each outlet: Universal sees Jeremy Renner as being in the same basic career position as Matt Damon was when he became Jason Bourne. (The Bourne Legacy will not feature Jason Bourne; Jeremy Renner is not replacing Matt Damon. He would play an all-new character.)
But there is The Avengers to worry about, as Universal wants to get Bourne going soon. So there is an undercurrent to the news that schedules could kill the deal, but we'll see what happens.
This comes hot on the heels of a report that Tony Gilroy wants Joel Edgerton for the new Bourne film; the writer/director also looked at Garret Hedlund, Taylor Kitsch, Luke Evans, Shia LaBeouf and James McAvoy. Given that there were some not so pleasant differences of opinion between Tony Gilroy and Paul Greengrass on previous Bourne films I'm curious to see how Universal's strong hand in the casting process affects the film. (And it might not at all; Tony Gilroy may want certain actors, but he's also experienced enough to know that the studio is going to have final say when it comes to casting a franchise like this.)
I think Jeremy Renner is good for the role, but given that he's already playing similar roles in other films it's too bad that this might not go to an actor who is also on the brink of breaking big.