'30 Minutes Or Less' Red Band Trailer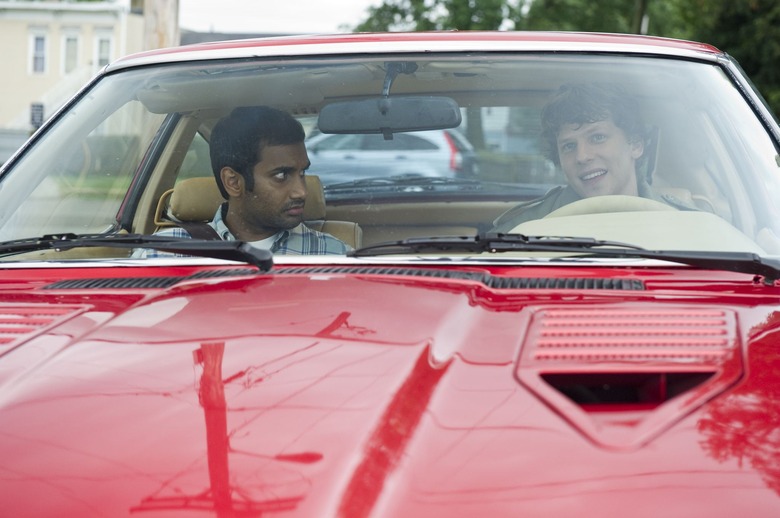 The summer movie season is, more or less, upon us. And while we've seen trailers of almost all the big releases scheduled for release from now through August, one of the most glaring omissions was Ruben Fleischer's 30 Minutes Or Less starring Danny McBride, Jesse Eisenberg and Aziz Ansari. You may now cross it off the list. IGN has your first look at the movie with an international, red band trailer. Check it out after the break.
Thanks to IGN for premiering the trailer.
My first impression of this trailer is that Aziz Ansari, already one of the most successful touring stand-up comedians out there, is going to blow up even bigger after this movie. It looks like he's got the majority of the big laughs and as much as Parks & Recreations has made him a star, this could make him a leading man.
Here's the plot description of the film:
In the action-comedy 30 Minutes or Less, Nick (Jesse Eisenberg) is a small town pizza delivery guy whose mundane life collides with the big plans of two wanna-be criminal masterminds (Danny McBride and Nick Swardson). The volatile duo kidnaps Nick and forces him to rob a bank. With mere hours to pull off the impossible task, Nick enlists the help of his ex-best friend, Chet (Aziz Ansari). As the clock ticks, the two must deal with the police, hired assassins, flamethrowers, and their own tumultuous relationship.
Other than Ansari's performance, however, nothing really jumps out at me in this trailer. It looks entertaining and fun – McBride is always great – but I'm weary about the balance of action and comedy.
30 Minutes Or Less is scheduled for release on August 12. What do you think about the trailer?