Could Joel Edgerton Star In 'The Bourne Legacy' Or 'Snow White And The Huntsman'?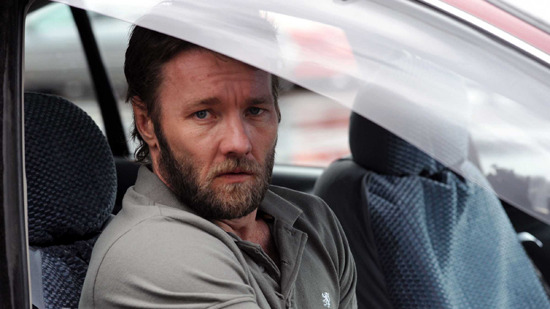 Joel Edgerton has been around for years, but he's only now beginning to get serious attention. He played Owen Lars in the Star Wars prequels, Gawain in King Arthur, and had moments in Ned Kelley, Kinky Boots and Smokin' Aces. More recently he's been great in his brother's film The Square and in Animal Kingdom. He's one of the leads of Warrior (trailer here) and also of The Thing, which acts as prequel to John Carpenter's sci-fi horror standard.
Universal must like his work in The Thing, because now he's linked to two other huge films the studio is preparing to put into production: Tony Gilroy's The Bourne Legacy, and the Rupert Sanders-directed Snow White and the Huntsman.
But Vulture's piece that reports his possible involvement in those films has an inherent contradiction, or seems to. The report says that Universal is concerned that Joel Edgarton isn't a big enough name to anchor the new Bourne series. But at the same time he is currently the strongest contender to play the Hunstman in Snow White and the Huntsman.
So he's not enough of a star for Bourne, but he is good enough to play a role that has been linked to Johnny Depp, Viggo Mortensen and Hugh Jackman?
The resolution of that contradiction has several factors. Part of it is that Universal is feeling pressure to get Snow White made. A lot of money and dealmaking has already gone into that project, with Kristen Stewart reportedly agreeing to a lower than usual rate to appear as Snow White. And Relativity is going full-throttle on its own Snow White movie, which will beat Huntsman to theaters by six months. Finally, despite the fact that the Hunstman is a title role, that's definitely a smaller part than the lead in the Bourne film; Charlize Theron and Kristen Stewart would be the big names for Hunstman.
Joel Edgerton's name has been on Tony Gilroy's Bourne list for some time, and it seems that he really wants someone like that — a tough, good actor — rather than someone whose value for the film is in name recognizance alone. But Universal reportedly wants someone like James McAvoy or Shia LaBeouf for the role.
It's worth saying here that I think Joel Edgerton is a great screen presence, and a particularly valuable actor as he's one of the few new names who is both tough and possessed of significant depth. He's the antidote to the boring, homogeneous pretty boys that have become movie stars in the past ten years. If every action role that might go to an Alex Pettyfer could go to someone like Joel Edgerton instead, we might have better movies. Along with Tom Hardy and Michael Fassbender, Joel Edgarton is part of a very welcome new crop of talent that feels real enough to anchor an action film.
That said, I see him fitting in with Snow White and the Huntsman more than in Bourne, even though the latter film would likely end up being a better showcase, and something that could give him semi-guaranteed projects for a few years down the line.