Zach Braff Joins 'The Devil And The Deep Blue Sea,' Talks Continued Directorial Ambition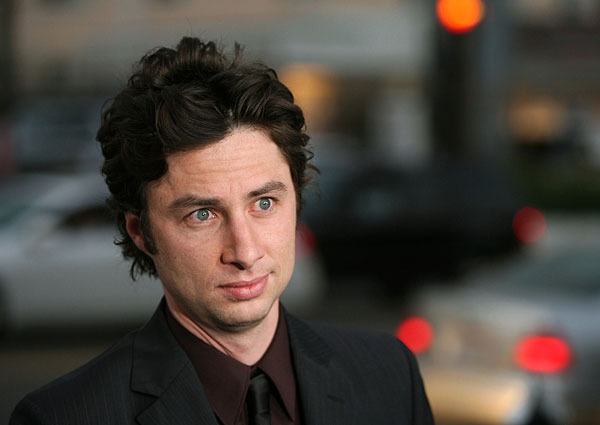 Zach Braff earned a big following with Scrubs and had one of the bigger breakout indie hits of the past decade when he wrote, directed and starred in Garden State. Now he's starring in a smaller new film, The High Cost of Living, which is hitting VOD this week before getting a limited theatrical release. The movie has got some good notes, and as Zach Braff has promoted it one question naturally comes up: why hasn't he directed anything since Garden State? ("That's the question every reporter is asking me," he said to Movieline.)
The answer to that question is pretty simple — he didn't want to make a shitty movie — but it's better to read it in his own words. Plus, the actor says he's soon to make a film called The Devil and the Deep Blue Sea, with Chloe Moretz and Jessica Biel.
First up, let's hit The Devil and the Deep Blue Sea, details of which are pretty thin, but IMDB offers this plot:
Unable to reconcile the grief from recently losing his wife, an introverted architect befriends a wisecracking young girl and agrees to help her build a raft to cross the Atlantic.
He told Movieline,
I'm supposed to act in a movie called The Devil and the Deep Blue Sea, with Chloe Moretz and Jessica Biel, in the fall. That's a really, really well-written script by a guy named Bill Purple.
According to IMDB, Robbie Pickering, director of the Sundance hit Natural Selection, wrote the script and Bill Purple is actually directing, not writing.  As for directing again, the summary via interviews with ComingSoon and Movieline is that, with Garden State written before Scrubs it was relatively easy to get going. But he told Movieline,
I couldn't really write during eight and a half years of doing broad comedy. I didn't have the focus to do it. I tried a couple time to get a movie going — I had my dream cast and all that — but actors fell out or money fell apart.
Elaborating on that is a quote from ComingSoon:
Now I've had two movies almost come together, both of which fell apart. I could have made a crap movie ten times over but I'm trying to make a really good movie that I stand by and that I believe in, so tell all of those people who are waiting, 'I thank you so much and it's coming.' I've been trying to navigate the Hollywood system and make something really good that you'll all like again and not make something that I don't believe in.
He still wants to do the remake of Susanne Bier's Open Hearts, which was once set up at Paramount with Sean Penn set to star before scheduling and budget caused it collapse.
And he's written a play called All New People that he wants to turn into a film, possibly doing it pretty small-scale.  "One idea is to forgo the whole system — to kind of go the Tyler Perry route and make a really small-scale movie... And Gary Gilbert, who financed 'Garden State' has already said he'd finance it. So if the things that are on my burners that require more of a substantial budget don't come together, I think what we're going to do in maybe the fall or winter is that I'm going to direct and Gary's going to produce a movie on this scale so we can just make something." Like Open Hearts, it's not cheery stuff. Here's the synopsis of the play:
It's the dead of winter and the summer vacation getaway of Long Beach Island, New Jersey is desolate and blanketed in snow. Charlie is 35, heartbroken and just wants some time away from the rest of the world. The island ghost town seems to be the perfect escape until his solitude is interrupted by a motley parade of misfits who show up and change his plans.  A hired beauty, the townie fireman, and an eccentric British real estate agent desperately trying to stay in the country suddenly find themselves tangled together in a beach house where the mood is anything but sunny.