Watch The Full 'Fight For Your Right Revisited' Starring Seth Rogen, Danny McBride And Elijah Wood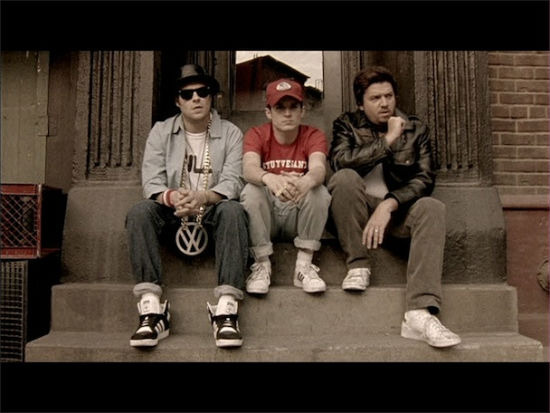 We were pretty curious and more than slightly excited when it was announced that Elijah Wood, Seth Rogen and Danny McBride would play the Beastie Boys in a short film called Fight For Your Right Revisited. The film picks up as the Beasties sneak out of the party they crashed in the 1986 '(You Gotta) Fight For Your Right (To Party)' video, and then carries on along a ridiculous path of destruction and minor mayhem that, somehow, ends with two incarnations of the Beasties in a dance-off that turns into a very literal pissing match. (So, yeah, perhaps consider this one NSFW.)
The short premiered at SXSW and aired last night on MTV and Comedy Central, and now the whole thing is online. Check it out after the break.
The movie represents a stab by the modern Beastie Boys at coming to terms with the mid-'80s Beasties (the band has since renounced some of the behavior and attitude that made them famous then, calling it a joke that was taken too seriously) while also poking fun at themselves. And that part works, sort of. But this is really a thing for fans of the band and fans of the people playing the band. Fans of Will Ferrell's cowbell gag, and those who really like the cover for the Beastie's second album, Paul's Boutique, which gets a visual shout-out towards the end, should also be pleased.
Fight For Your Right Revisited is, more than anything else, a massive collection of Beastie Boy friends and famous people making cameos left and right. Despite the fact that this video is pretty meandering, intermittently funny and just OK overall, does any actor who didn't get the call to appear still feel a bit left out? It seems like everyone is in this little film.
The video is broken into three parts. If you want the short version, check the fourth embed, which is the condensed version of the short film that acts as a video for their new song, 'Make Some Noise.'