Cool Stuff: Unused 'Hanna' Concept Posters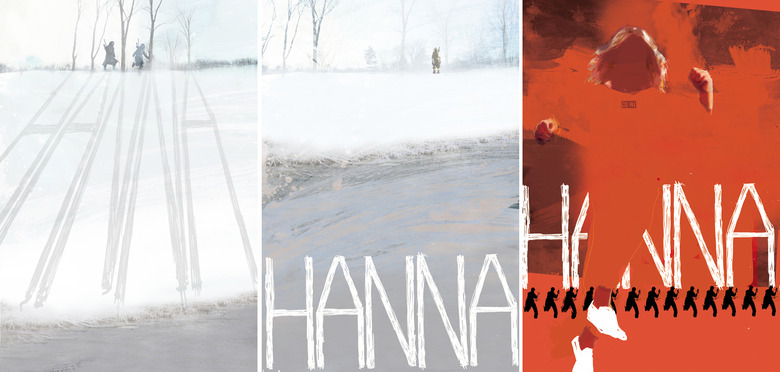 As much fun as it is to take a gander at the new movie posters being released every week, it's often the case that a film's best marketing material never makes it past the design stage, as studios tend to opt for simpler, more star-oriented imagery that's more likely to generate interest in mass audiences. Case in point: These poster concepts for Hanna, which put to the shame the actual posters used to advertise the film. (Do we really need to see the sniper scope motif make its way into every 'chase thriller' movie poster?)
The man responsible for the designs are Jock, a comic book artist who regularly contributes concept paintings and key art to film productions and promo campaigns, including Batman Begins, Hancock, Children of Men, and the forthcoming adaptations of Dune, Battleship, and Dredd. You might remember seeing some of his concept art for Dredd (based on the Judge Dredd comics, for which he is an artist), or his Comic Con teaser poster for The Losers that ended up serving as the basis for the official poster. (He was the main illustrator for The Losers comic book series.)
You can check out a lot of that work over at 4twenty (via Bleeding Cool), where Jock has also posted his Hanna posters.
Every single one of these unused one-sheets are gorgeous. While I fully understand why the studio chose to go in a different direction, these serve as a much better visual representation (tonally, stylistically, thematically) of what type of film Hanna really is — less a Bourne-style actioner than a warped fairy tale. I especially love the distorted image of Hanna leaping across the shipping containers. So very cool.
Thankfully, not all of Jock's hard work went to waste. His title text for the film came in handy, with director Joe Wright using it to assault audiences at both the beginning and end of the film. It's one of the many wonderfully bizarre touches that the movie has to offer.