Casting Bits: Susan Sarandon In 'Hemlock Drive;' Julia Stiles In 'Between Us;' Justin Long And More In 'Lumpy'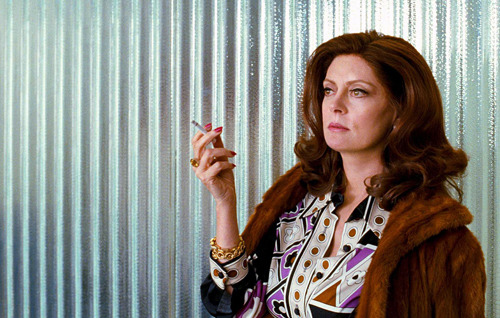 Rosanna Arquette is about to make her first dramatic feature, Hemlock Drive, after making a couple of documentaries. The film is "about an eccentric mother in Connecticut who learns she is dying and brings her three adult children back home for a weekend." Part of the plot involves the matriarch getting her kids to throw a living funeral, Get Low style, although it sounds like this is meant to be a bit more funny than the climactic scene in that movie.
Now Susan Sarandon is in talks to play the main character, with Adam Brody in talks for one of her kids, and David Arquette negotiating a role as a nearby bar owner. The film, written by Jennifer Carta and Mandy Steckelberg, will shoot in Louisiana in September. [The Wrap]
After the break, Julia Stiles and three more join an indie adaptation of a play, and Justin Long is one of several new additions to an indie with an unfortunate name.
Joe Hortua's off-broadway play Between Us is being adapted to film in May by director Dan Mirvish (also the Slamdance co-founder), and the project has lined up Julia Stiles, Taye Diggs, Melissa George and David Harbour to star. The play follows "two couples who were friends in school and whose periodic meetings conjure up rivalries and bitterness over unrealized ambitions that get waylaid by money and children."Dan Mirvish wrote the script with Joe Hortua. [Deadline]
Finally, a press release announces that Justin Long, Jess Weixler (Teeth), Tyler Labine (Mad Love), and Addison Timlin (Californication) are starring in Lumpy, which is the directorial debut of TV writer Ted Koland. The cast also features Michael Landes, Evan Jones and Shelly Long, and the shoot is already under way in Minnesota.
Here's the plot:
The best man at Scott (Long) and Kristin's (Weixler) Arizona destination wedding, Lumpy (Labine) is the life of the party, until a long, indulgent night leads to his untimely death. Forced to cancel their honeymoon and fly back to Minneapolis to arrange for his funeral, Scott and Kristin meet Ramsey (Timlin) and learn that Lumpy isn't quite who they thought he was.