'The Change-Up' Red-Band Trailer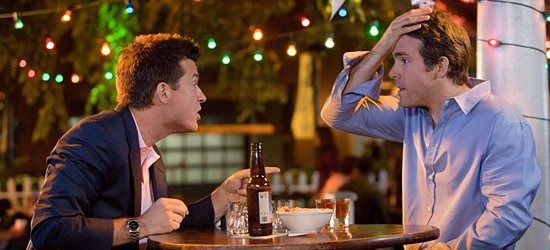 The Change-Up, directed by David Dobkin (Wedding Crashers) asks a very important question: what if two drunk friends pissing in the same fountain accidentally changed bodies and got to live each others lives? Yep, The Change-Up is a body-switching comedy, and it gives about as much weight to the reason for the switch as Hot Tub Time Machine did time travel. The point is really to watch Jason Bateman and Ryan Reynolds freak out as they try to navigate the life they momentarily envied. Watch the freakout begin in the new red-band trailer, after the break.
The setup here is as familiar as they come: one guy (Jason Bateman) is the family man with a respectable job as a lawyer. The other (Ryan Reynolds) is a free-spirited aspiring actor and total ladies man. (Read: pussy hound.) Their body-switch is an excuse for a pretty filthy script and, based on some other footage I've seen, a lot of actual character interaction. And, yeah, a lot of seriously low-brow humor, as evidenced by Jason Bateman, pretending to be Ryan Reynolds, checking out his taint for the first time.
The trailer is not embeddable for now, so click the player image below to go to Moviefone's trailer page.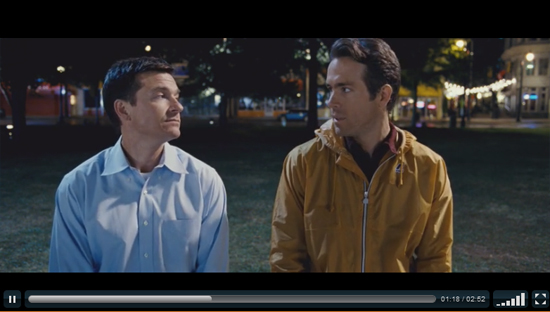 Here's the studio line on the film:
Ryan Reynolds and Jason Bateman star in The Change-Up, from director David Dobkin (Wedding Crashers), writers Jon Lucas & Scott Moore (The Hangover) and producer Neal Moritz (Fast & Furious, Click).  The R-rated comedy takes the traditional body-switching movie, ties it up tightly and throws it off a cliff.
Growing up together, Mitch (Reynolds) and Dave (Bateman) were inseparable best friends, but as the years have passed they've slowly drifted apart.  While Dave is an overworked lawyer, husband and father of three, Mitch has remained a single, quasi-employed man-child who has never met a responsibility he liked.  To Mitch, Dave has it all: beautiful wife Jamie (Leslie Mann), kids who adore him and a high-paying job at a prestigious law firm.  To Dave, living Mitch's stress free life without obligation or consequence would be a dream come true.
Following a drunken night out together, Mitch and Dave's worlds are turned upside down when they wake up in each other's bodies and proceed to freak the &*#@ out.
Despite the freedom from their normal routines and habits, the guys soon discover that each other's lives are nowhere near as rosy as they once seemed.  Further complicating matters are Dave's sexy legal associate, Sabrina (Olivia Wilde), and Mitch's estranged father (Alan Arkin).  With time not on their side, Mitch and Dave comically struggle to avoid completely destroying each other's lives before they can find a way to get their old ones back.
The Change-Up opens August 5, 2011. Leslie Mann, Olivia Wilde and Alan Arkin co-star. Here's the poster: