First Look: Animated 'Batman: Year One,' Plus Key Voice Cast Announced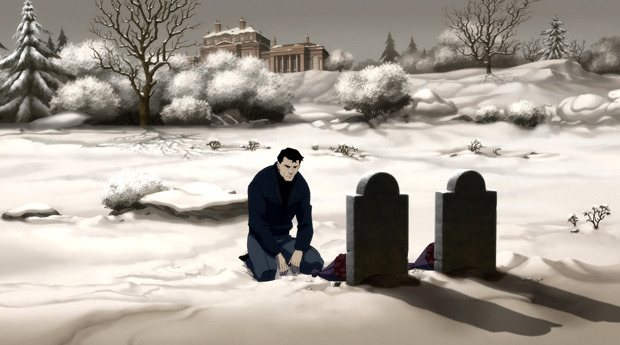 Christopher Nolan's The Dark Knight Rises isn't the only new Batman film in the works. Warner Premiere, DC Entertainment and Warner Bros. Animation are continuing their string of animated DC films with a long-awaited animated version of Batman: Year One, the seminal Batman origin story written by Frank Miller and drawn by the incomprable David Mazzucchelli in 1987.
Now the core voice cast has been announced, which includes Bryan Cranston, Ben McKenzie, Eliza Dushku and Katee Sackhoff. And there are two images available, too. One is above, and the other follows after the break.
The story follows a young Bruce Wayne as he develops the Batman persona, takes some serious lumps while trying to figure out how to fight crime and stay alive, and develops a working relationship with detective James Gordon. At the same time, Selina Kyle is going through her own identity changes and Gordon is dealing with his attraction to a female cop, Sarah Essen. Some of these elements have found their way into Batman films in altered form, but this is the first full-on adaptation of Year One.
Bryan Cranston is playing James Gordon, while Ben McKenzie is Bruce Wayne/Batman. Eliza Dushku voices Catwoman, while Sackhoff is Detective Sarah Essen.
Exec producer Bruce Timm tells THR that the film is very faithful to the comic, with few additions or changes,
The source material is surprisingly cinematic; it's a pretty straight forward literal retelling... Mazzucchelli's artwork is beautifully composed and we were able to refer to the comic for about 80 percent of the camera setups.
I'm happy to hear that, simply because I have a deep and abiding love for David Mazzucchelli's work. (Check out his graphic novel version of the Paul Auster novel City of Glass, too.) Here's another still from the film. Click either one to enlarge slightly.
The film will premiere this year at Comic Con.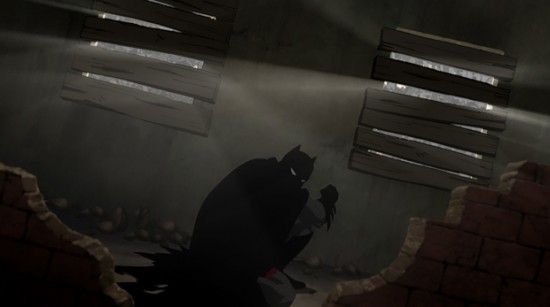 [images also via THR]