McG's 'Ouija' Gets A New Writer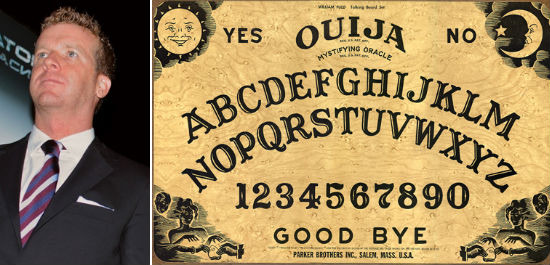 Perhaps you were hoping that the Universal collaboration with Hasbro would somehow fail to produce the Ouija Board movie that we've been promised. (Or warned of, take your pic.) But the Platinum Dunes-produced, McG-directed film is very much alive. Tron Legacy writers Edward Kitsis and Adam Horowitz were originally on the script, but they're now dealing with their TV show Once Upon a Time and Ouija consequently needs a new writer. That the new guy has a lot of Disney experience might surprise you, until realizing that he also worked on Universal's Wanted 2.
So THR reports that Evan Spiliotopoulos, who penned DTV Disney films like The Lion King 1 1/2 and Pooh's Heffalump Halloween Movie, will be taking over script duties. All we've got with respect to plot is that it is "an adaptation of the Hasbro board game about conjuring up spirits of the dead." The film is said to be a big action/adventure story involving a family, and emulating the spirit of the Indiana Jones and Mummy movies.
That's not exactly how I'd describe Ouija board, however. Using a small planchette (more important than the board, really) and board to find the answers to questions is about communing with spirits, perhaps, but it's not as if the board has ever been about actually bringing spirits into our plane. (That's the objective of a totally different, more intense set of actions that became popular during the Spiritualist boom around the same time that the Ouija board enjoyed a surge of popularity in the States.) Of course, many don't even accept that the use of a board and planchette actually is supernatural; many believe that any useful answers given by the method are either consciously or subconsciously provided by the users.
How does this all pertain to a big adventure movie? Since the use of planchette to talk to spirits goes back centuries, there is a wealth of possible supernatural plots that could be used as a thin basis to drive effects-based action. And hell, it's might even be a lot less ridiculous than Candyland...