'Red State' Officially In The Black, Screens For Quentin Tarantino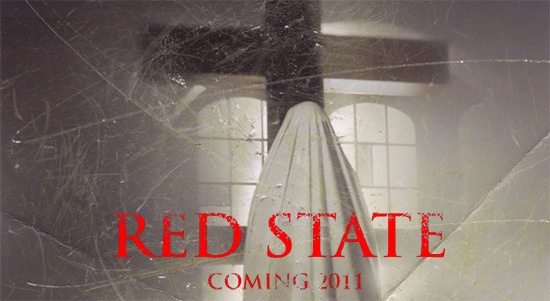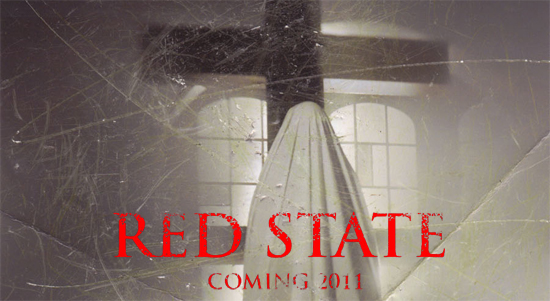 Love him or hate him, Kevin Smith has can now hang his own "Mission Accomplished" banner. He's taken his tiny little horror film Red State, premiered it at Sundance, decided to self-distribute it, taken it on the road and now, officially, turned a profit without spending a dime on marketing. The film, which cost $5 million to make, saved $1 million from California state tax incentives, making the total investment $4 million. It then grossed about $1 million on the first leg of the tour, took in $1.5 million from a handful of foreign sales and is about to close a $3 million domestic distribution deal to release the film every way but theatrical. Do the math and Smith's little experiment is now officially in the black, and it's still six months away from theatrical distribution with another tour in the works.
Plus, if that wasn't good enough news for Smith, friend and muse Quentin Tarantino recently screened Red State and loved it. Read why that was a big deal to the filmmaker and more after the break.
Smith wrote a lengthy, but fun and worthwhile post, over on The Red Statements about all of this and we urge you to head over there and read it. However, the long story short is that Smith has always been a peer of Tarantino's, but also found much inspiration in his work. Tarantino sort of introduced Smith to the work of actor Michael Parks, who years later went on to star in Red State, and Smith tells several great stories including what it was like going to Tarantino's house this week to screen Red State with the both of them. If you're a fan of Smith, Tarantino or both, it's a very good read, and here's a quick taste:
That's graduation day, folks. Ain't no reason for me to continue in this business past Hit Somebody because I scored the respect of a Grand Master.
Back to the financial news. Smith explains that the $3 million domestic deal for video on demand, home video, pay TV and streaming, isn't officially done, but should be soon. He also believes the deal in question never would have happened had he not taken the film out and actually sold it to an audience. That act proved to this distributor that there's an audience for the flick and it's worth their investment. Here's Smith to wrap up his feelings:
But like I said: this business bullshit should only be important to the investors, really. Well... maybe it's an important point of pride for me and Jon, too: being in the black without spending a dime and before we go wide was one of our biggest dreams and goals – the "Imagine if..." we wanted to desperately make true. And once those deals close, we will have whimsied a reality and shown that The Harvey Boys are a financially responsible filmmaking unit that can make quality entertainment that puts asses in seats and gets you your investment back fucking fast. But like I said: none of this bizzzzz-ness should matter to anyone...Unless you're interested in investing in a hockey movie.
Are you surprised at Red State's incredibly quick success when there's still a second "mom and pop" leg of the tour to go before the wide release in October? Do you relate to Smith when he talks about his passion and respect for Tarantino?