James Franco And Winona Ryder Cast In 'The Stare'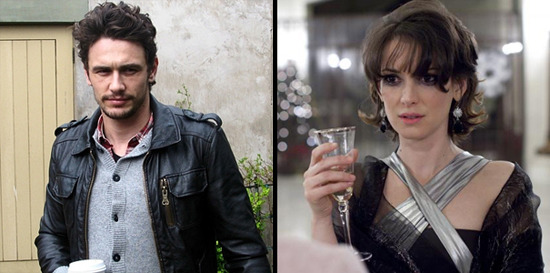 It's been a couple months since it seemed like we couldn't go two days without an announcement of a new James Franco project. And with the reception of his Oscar hosting gig, Your Highness and the Rise of the Planet of the Apes trailer, it might not be a stretch to say that the guy's heat has cooled just a bit. Even so, he's still one of the most ambitious guys working right now, and he seems to be consistently working toward a balance between mainstream and more personal work.
So he's still working away, and is now set to co-star with Winona Ryder in the psychological thriller The Stare, which starts shooting next month. Yep, it looks like this James Franco film is actually happening, and will be in the can before he starts working with Sam Raimi on Oz the Great and Powerful.
Deadline reports a May 6 start for the film, which will be directed by Jay Anania. It sounds more than a bit like Winona Ryder's last film, Black Swan:
...a playwright (Ryder) finds her mind beginning to warp as she struggles to launch her next production. She's plagued by dreams and visions of being watched, but can't decide if she's at the center of a manipulative plot or simply losing her grip on reality. Franco plays one of the performers in the playwright's production.
Incidentally, the company behind this film, Waterstone Entertainment, is also planning two other films produced by James Franco, one of which he'll direct. Trying to get more info on those now; we don't know if the directorial project might be As I Lay Dying, which was said to be a film the actor would direct. It could also be a film based on one of several literary properties he's optioned in the past few months, or something else altogether.