Thresh And Rue Cast In 'The Hunger Games'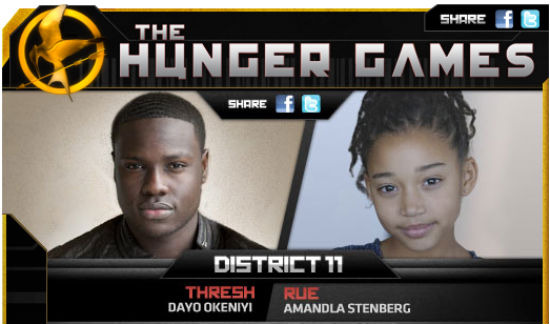 Director Gary Ross has just cast two important supporting roles in his adaptation of the Suzanne Collins book The Hunger Games. He'd already announced that Oscar-nominee Jennifer Lawrence would play Katniss Everdeen, the main character, and that her main men – Peeta and Gale – would be portrayed by Josh Hutcherson and Liam Hemsworth respectively. But that's just the tip of the iceberg.
In the story, the government selects two children, called "tributes," from each of the 12 districts to compete in the titular games, a televised battle to the death. Katniss and Peeta are from District 12 and now the District 11 tributes Thresh, a big, burly male and Rue, a small but capable female, have been given faces. They'll be portrayed by newcomers Dayo Okeniyi and Amanda Stenberg. Read more after the jump.
Entertainment Weekly exclusively broke the casting news, which was then announced on the official Hunger Games Facebook page.
According to EW, "Okeniyi ... has appeared in a short called Eyes to See and an upcoming horror film, Slew Hampshire. Stenberg ... has roles in the September's Colombiana and the telefilm Taste of Romance."
Just by the structure of the story, it's not hard to discern the ultimate fates of these two newly cast characters. But if you'd like to really get a good look, the character of Rue was dramatized in this awesome fan film we highlighted a few months back:
Other than Katniss, Peeta and Gale, Thresh and Rue were arguably the most important tributes that needed to be cast. Now that they're all set, the big announcement still to come is who will play Haymitch, the drunken former winner of The Hunger Games who becomes the mentor to Katniss and Peeta.
What do you think about Ross going with unknowns for these roles? Is this what you pictured when you read the book?