'The Help' Trailer And New Photos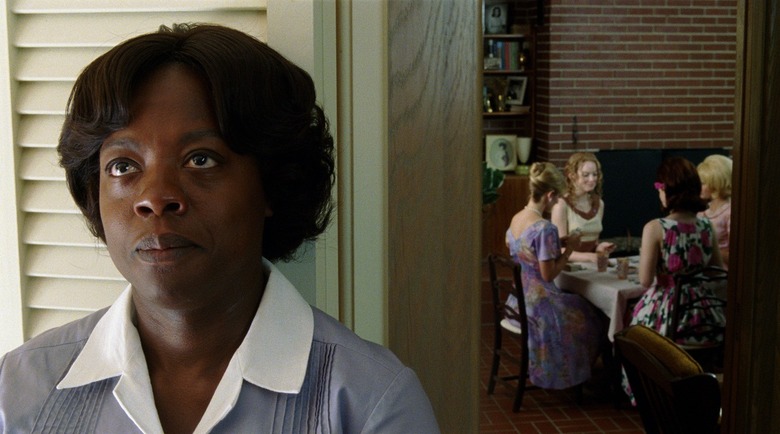 The trailer has landed for The Help, the Tate Taylor-scripted and directed adaptation of Kathryn Stockett's novel of the same name. The story follows Skeeter (Emma Stone), a young college grad who, incensed by the treatment of the women who work as maids in her hometown of Jackson, Mississippi, decides to write a book from the perspective of 'the help.' The results, as you might expect in Jackson in the '60s, are explosive.  Viola Davis, Bryce Dallas Howard, and Octavia Spencer are also in the cast. See the trailer and a few new high-res photos from the film after the break.
What this trailer promises is a movie that is equal parts social injustice and feelgood comeuppance, all portrayed with a relatively light touch. It's not often of late that I think Bryce Dallas Howard is well-cast, but here she looks like she's playing exactly the right part. And Viola Davis and Octavia Spencer are tough to beat; they could probably get this movie right without even trying. I'm hoping for something a little more deft and serious than what we see here, but figure we shouldn't expect the trailer to get quite as deep as the movie might.
Here are a couple stills:
AOL has the trailer. Here's the official studio synopsis of the novel:
The Help stars Emma Stone ("Easy A") as Skeeter, Academy Award®–nominated Viola Davis ("Doubt") as Aibileen and Octavia Spencer as Minny—three very different, extraordinary women in Mississippi during the 1960s,  who build an unlikely friendship around a secret writing project that breaks societal rules and puts them all at risk. From their improbable alliance a remarkable sisterhood emerges, instilling all of them with the courage to transcend the lines that define them, and the realization that sometimes those lines are made to be crossed—even if it means bringing everyone in town face-to-face with the changing times.