Producer Says Alfonso Cuarón's 'Gravity' Shoots In May, Will Be Post-Converted To 3D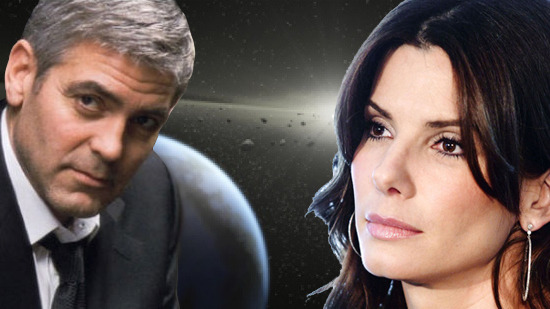 There was a great bit of buzz last year about Alfonso Cuarón's upcoming film Gravity. The casting process was intricately detailed in the press as a search for an actress to lead the film finally led to Sandra Bullock being cast. Robert Downey, Jr. was set for a small role for some time, but the film's schedule was pushed multiple times, leading to his departure and eventual replacement by George Clooney. Since then, news on the project has been scant.
Now producer David Heyman says that the film, about a woman trying to return to Earth after disaster strikes her mission in space, will finally shoot in May. And post-conversion 3D is in the cards, as well.
Collider (via The Playlist) talked to Mr. Heyman at CinemaCon, and he said that the film "starts at the end of May," as he waxed very enthusiastic about Mr. Cuarón's directorial abilities. ("The whole film has been pre-vised and figured out, it's fuckin' awesome. I mean, unlike anything you've seen in space. It's just great. He's a privilege to work with—he's a real visionary.") And it sounds like this is going to be a technological leap forward from Children of Men:
We're using technology that's never seen before. This film will be more immersive, I believe, than anything you've seen before. You will really feel like you are in space. It will not be an objective view of space, it will be an immersive view of space. And you know as you say, with Children of Men, he loves these long shots. It's gonna be a really bold, bold film.
The producer confirms that the film will be shot largely on soundstages, and more specific comments relating to earlier reports that the film would be built primarily with CGI come in answer to a question about post-processing the film for 3D. Actually, his comments aren't all that specific, but extrapolate as you will:
...actually, we did some tests. Because this film is being made almost entirely digitally, a huge amount of it's being made digitally. 3D felt like a really organic—because so much of it's being done digitally, you can make the 3D in a post process much more easily than if you were shooting all live-action or sitting in a room.